Do you still have school supplies on your shopping list? Thankfully, my friends from Crayola offered to sponsor this fun giveaway for a $25 VISA gift card for your last-minute back to school shopping needs!! (Thanks, Crayola!) Crayola also supplied me with a $50 VISA gift card to help with some of our back to school shopping too. Here's a peek at what we purchased and for how much: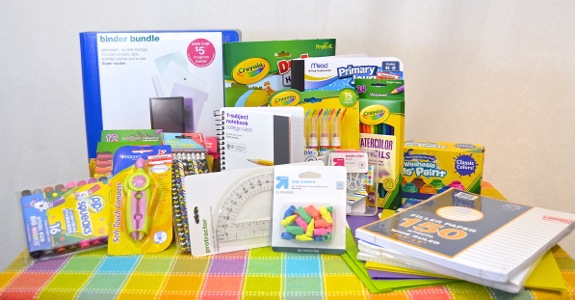 $50 Worth of School Supplies (all purchased at Target):
Notebook $2.49
Notebook $2.08
Crayola Washable Tri-color Markers $4.44
Erasers $0.99
Portfolio $0.50
Portfolio $0.50
Portfolio $0.50
Ring Binder $3.50
Crayola Washable Markers $3.89
Compass $1.14
Crayola Color Sticks $2.48
Crayola Watercolor Pencils $4.49
Crayola Dry Erase Handwriting Workbook $3.99
Crayola Washable Paint $4.99
Binder Clips $3.00
Pencil Case $3.48
Protractor $0.99
Filler Paper College Ruled $1.60
Filler Paper $0.39
Filler Paper $0.39
Subtotal: $45.83
Tax 6%: $2.75
Total: $48.58 
Ever wonder what makes Crayola stand out? Here are some key reasons why:
-Crayola's washable markers are the World's Most Washable.
-The classic markers and colored pencils are preferred by teachers.
-Crayola colored pencils are made with reforested wood.
Now the Fun Part:
One very lucky Inner Child Learning reader will win a $25 VISA gift card courtesy of Crayola!! To enter for your chance to win, leave a comment on this post sharing your favorite Crayola memory from when you were a kid. Giveaway is open to US residents only, and winner will be selected at random. (See official giveaway rules.) 
This giveaway ends Thursday, September 12th at 6:30pm EST. Winner will be notified via email. Good luck!!
Disclosure: The Crayola gift card, information, and additional gift card have been provided by Crayola.