We all have great ideas for our kids school year as homeschoolers, but if we tried to start every great idea on day #1 of school our kids (and us!) would burn out very quickly.  For this reason, I started to use this year-at-a-glance calendar to plan the things I want to get to this year, but not necessarily right now.  It gives me a reasonable way to work into things in the year and perhaps add in some awesome ideas for that post-Christmas/before Spring slump that we all know so well.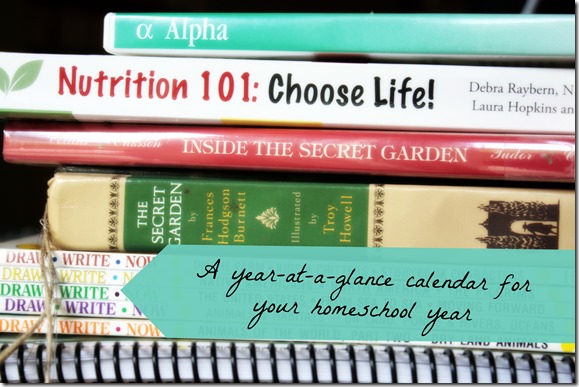 When I first saw this technique I was talking with a Waldorf teacher about how she sets up her kindergarten classroom.  She set up her year for her entire classroom on this one sheet of paper so that she knew the rhythm she wanted to proceed with throughout the year.  She even painted it and made it beautiful and displayed it in her house.  It has no deadlines or dates on it aside from the months.  But it gives a little bit of a rhythm to the entire school year on this one sheet of paper.  
You will need a large sheet of white paper, 8.5 X 14 works best, and pencils or pens.  If you want to get really snazzy with it, you can include a different colored pencil or pen for each child so that it is color coordinated.  That would be way cooler than me! 

First I fold it into thirds the long way (hotdog).  Then I fold it in half the short way (hamburger).  Then I fold both edges back to the middle fold and I have a sheet that is split into 12 equal sections.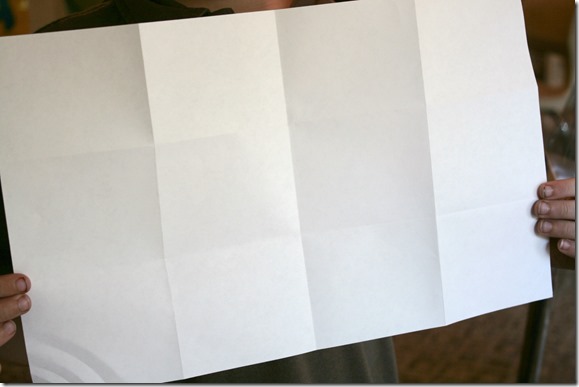 I mark each section with a month but no more.  I want this to be flexible as it can be.  Then I add in the goals and general lesson ideas for my children that I want to see.  For example, I want to get through 4 read aloud novels to my children this year, so I break down the books I wanted to read into how many chapters I believe I can get through per week and loosely add those to my year-at-a-glance calendar.   (We are 1/4 of the way through Secret Garden and the kids can't wait for the next school day when I read more.  My Yorkshire accent is being perfected as I read and we JUST found the door to the garden!)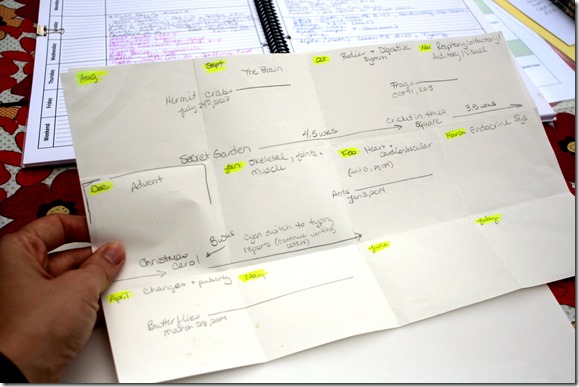 Because I write my own science curriculum for my 1st grader, I also have marked down which animals we will be studying and when I should order the critters for the next lesson. 
The calendar gets more filled in the first few weeks of school for the year, because that is the time that I notice the holes in my kids memories from the year before.  By the third or fourth week I have a general idea of where we are going and I keep the year-at-a-glance calendar tucked into the front of my planner for a quick reference.  It's a great place to keep things like "Cyan – start typing reports" as a reminder that this is a goal by the end of this year, but not for right now.  Things that I don't get to this year, I just add to the next year's calendar.
Consider it a roll-over program for learning.  It ends up being a very low pressure way of setting achievable goals.