Does your child love to color? Looking for the best inspiring new coloring books to try?? Here are 10 of our all-time favorite awesome coloring books for kids of all ages!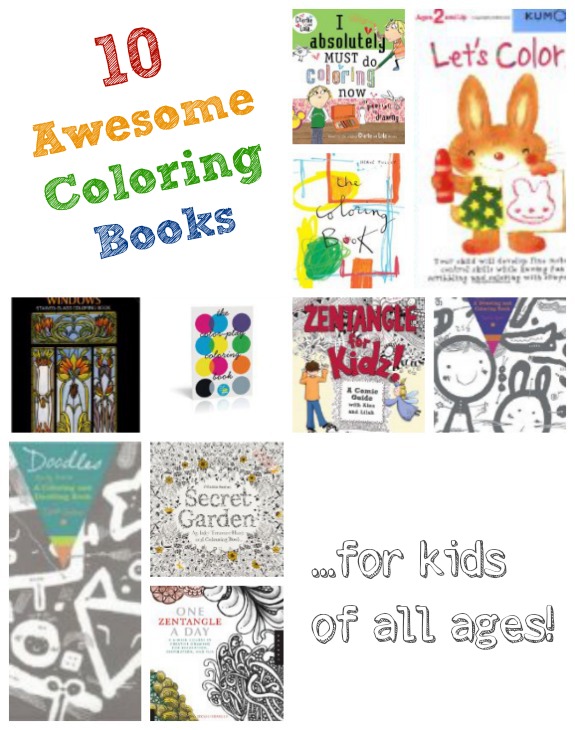 Toddler
Let's Color! (Kumon First Step Workbooks)
 — Both of my kids absolutely loved this coloring book for beginners when they were just starting to learn how to color. The pages become increasingly more difficult, but they are simple enough for 2 year olds to complete while encouraging them with a bit of early coloring success. The book itself is a smaller size, and it's perfect for coloring on a highchair tray!
Ages 3-7
I Absolutely Must Do Coloring Now or Painting or Drawing (Charlie and Lola) — This coloring and activity book is positively darling and is sure to spark plenty of imaginative coloring and drawing fun!
The Coloring Book — If you enjoyed the book Press Here
, you will love this coloring book by the same author. It features lots of great humor, and is so much fun to do alongside the kids!

Doodles: A Really Giant Coloring and Doodling Book — Another fantastic coloring and doodle book for collaborative coloring/drawing with the kids. I highly recommend this one, and have given several copies of this coloring book to my kids' friends too!
MoMA The Color-Play Coloring Book — While this coloring book is recommended for kids, I've found that I love it just as much (and I'm not always willing to share it). Encourages color mixing, and experimenting with various coloring mediums. The pages are quite large. My mother gave me a copy of this for my birthday recently, and whenever I want to feel like a kid again, this is the book I turn to!
Ages 8 and up
Scribbles: A Really Giant Drawing and Coloring Book — A step up from the "Doodles" coloring book featured above. 
Design Originals-Zentangle For Kidz — This one is relatively new to us, but it became an instant favorite for both myself and my 9 year old! If you haven't tried Zentangles, they are quite fun and satisfying to do (also quite addictive)!
Secret Garden: An Inky Treasure Hunt and Coloring Book — My 9 year old recently read The Secret Garden and adored it, so I knew this coloring book was going to be a huge hit with her! Very creative, and appealing to adults as well!
Adults
Art Nouveau Windows Stained Glass Coloring Book (Dover Design Stained Glass Coloring Book)
 — If you love to color with markers, these stained glass coloring books are fantastic!
One Zentangle A Day: A 6-Week Course in Creative Drawing for Relaxation, Inspiration, and Fun (One A Day)
 — This one was recommended to me by the lovely Zina from Let's Lasso the Moon, and after receiving it as a birthday gift from my mother-in-law, I have to say it is one of my all-time favorites!
Do you have a favorite coloring book to share?? Leave a comment and tell us about it!
*Disclosure — This post contains affiliate links. All opinions are my own.