We are getting ready for Fall, and that means plenty of crafts, recipes, and activities with one of my favorite fruits — Apples!! Every Fall our family looks forward to picking our own apples from the orchard. Once we return back home, we bake, cook, or craft with them! Whether you pick your own apples or buy them from your local farmers market, here are some of our favorite apple crafts and activities for preschoolers: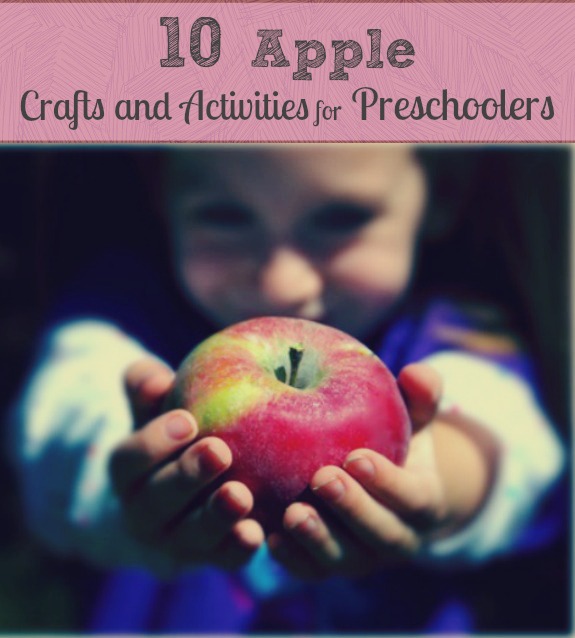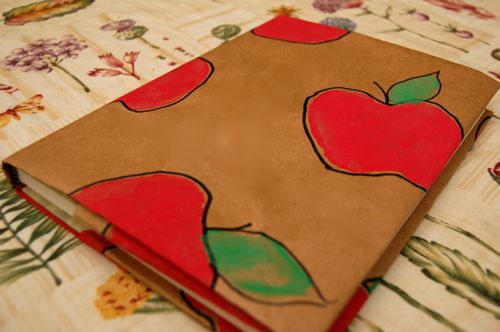 Cut apples in half, and stamp with large washable red and green ink pads like these ones from Melissa & Doug onto long sheets of freezer paper or brown paper bags to make festive wrapping paper or book covers for back to school.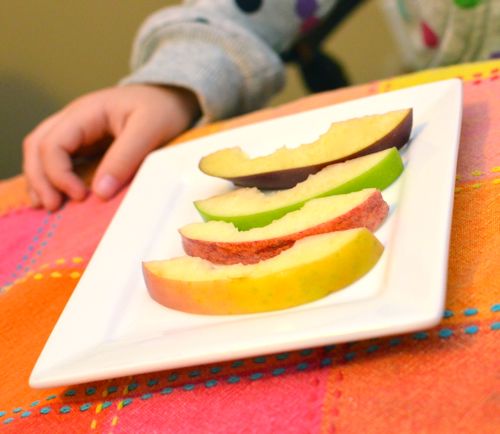 Not sure which variety of apples is your family's favorite? Conduct a simple apple taste test, and chart your results together!
3. Bake Apple Pie
Nothing beats a homemade apple pie. Invite the little ones to help measure, stir, and roll out the dough!
4. Collect Seeds from Apples and Germinate Them
Plant seeds in a small garden pot with potting soil, and add water. Place the pot in a clear plastic bag, and seal the top of the bag with a rubber band. Place the covered pot on a sunny windowsill. In 1-2 weeks, the apple seeds will start to sprout!
5. Make Shrunken Heads
Peel apples and use a dull pencil to make facial features. Insert cloves for eyes, and rice for teeth. As the apple dries and shrinks, it forms a creepy cool shrunken head!
6. Make Apple Sauce
Little ones can help wash the apples. Once they are peeled and cut into large pieces, preschoolers can practice (with careful adult supervision) cutting them into smaller pieces using a plastic knife on a cutting board. Great for developing important fine-motor skills!
Conduct a simple experiment to see how acid can help keep apples fresh. There is a great explanation of the process here.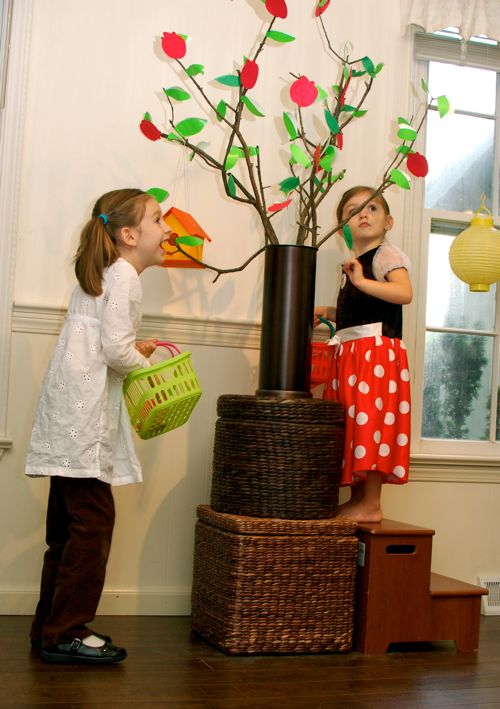 No apple orchard nearby? Want to pick your own apples, but the weather just isn't cooperating? Here's an easy indoor version of apple picking to try!
9. Still Life Drawings
Set out a bowl of apples on a well-lit table, and draw still life style drawings together. Colored pencils work very well for this! Introduce them to the concepts of light direction and shading.
10. Make Apple Smile Snacks
Cut up slices of apples, spread peanut butter on one side. Sandwich marshmallows in-between to make apple smile snacks. Here's a great tutorial video from my friends at Highlights for Children explaining how to do this:
Have fun!!