Do you live in a small or rented space? Looking for toys that don't take up a lot of room, but still provide plenty of creative playtime fun?? Here are some of our favorite toys that are perfect for small spaces, and inspire lots of imaginative play! These toys are cleverly designed to stack, nest, or fold, and take up as little space as possible whenever they are not in use. Yay for toys with easy storage options!!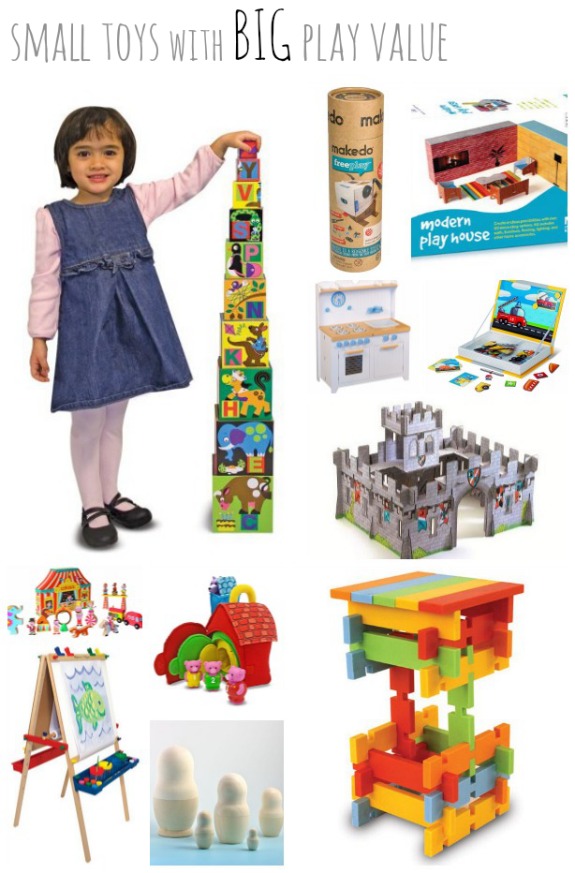 For Babies & Toddlers (Recommended for ages 0-2)

In seems that the younger the child, the larger the toys, but fortunately these toys for babies and toddlers nest, stack, or fold for easy storage!
1. Melissa and Doug Alphabet Stacking and Nesting Blocks
— made of high quality cardboard, these alphabet nesting blocks are lots of fun for little ones to stack, knock over, and stack again. I was most impressed with how much use the kids got out of these. They are definitely made to last!
2. Melissa and Doug Three Little Pigs Play Set
— One of Emily's very first baby toys, this Three Little Pigs Play Set became an instant favorite and was eventually passed down to her younger sister! Even now, almost 9 years later, it is still regularly played with when we host play dates with smaller children. Preschoolers will enjoy the storytelling aspect of this toy, and babies seem to love hiding the pigs and wolf in the houses, and taking them out again.
3. Melissa and Doug Happy Giddy Tunnel
— I love that this bright and cheerful tunnel can be used indoors or out, and it folds up completely flat for super easy storage. Another toy that has been very well-loved around here for plenty of active play time fun!
---
For Preschoolers (Recommended for ages 3-5)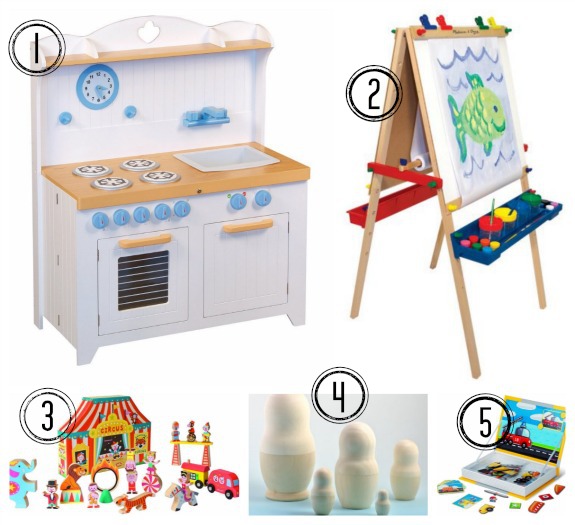 1. Guidecraft Hideaway Country Kitchen
— For those of you who like the idea of a play kitchen set, but don't want it to take over the house when its not in use, the Guidecraft Hideaway Country Kitchen is a nice option. This kitchen set is well-designed, and can completely fold up to store easily in a closet or under a bed when not in use.
2. Melissa and Doug Deluxe Wooden Standing Art Easel
— If there is one toy I wish every child could have, it is an easel. However, easels are notorious for taking up lots of room. This easel from Melissa & Doug folds flat, is double-sided, and it adjusts to grow with your child providing years of creative fun! There is a chalkboard surface on one side, and a wipe-off surface on the other. Well-made, sturdy, and at a reasonable price. Don't have room for the full easel? The Melissa and Doug Tabletop Art Easel
is another great space-saver version as well.
3. Janod Story Box Circus
— All of the elements of this beautiful circus storytelling play set store nicely inside the adorable circus tent box — which doubles as a piece of the play set! This 19-piece wooden play set is perfect for ages 3-8 yrs of age, great for preschool and school-aged kids to enjoy together. Really simple toy that is sure to spark the imagination and keep little ones happily occupied for long stretches of time!
4. Unpainted Blank Russian Nesting Doll 5pc./6″
— Once while I was on a trip to NYC, I stopped at a street vendor to purchase a small set of Russian nesting dolls for my kids. They have been played with ever since, and Emily is currently hard at work painting up a set of her own! These unpainted Russian nesting dolls can be painted up by the kids however they'd like and then played with and nested inside one another for super easy storage. They can even be packed in a purse for lots of play time fun on-the-go!
5. Magnetibook Vehicles
— This adorable magnetic play set is great for at-home or on-the-go play. The pieces fit nicely inside a box that is cleverly designed to look just like a book, and can be stored easily on a bookshelf! There are 18 different backgrounds and 50 different magnetic play pieces for kids to explore. The magnets seem strong and very well-made to last for several play sessions! Similar to tangrams, kids can select a vehicle they want to make from the cards, then build the vehicle to match using the magnetic pieces. The inside cover of the box has a magnetic surface, so play is contained to the box itself.
---
For School-Aged Kids (Recommended for ages 5 and up)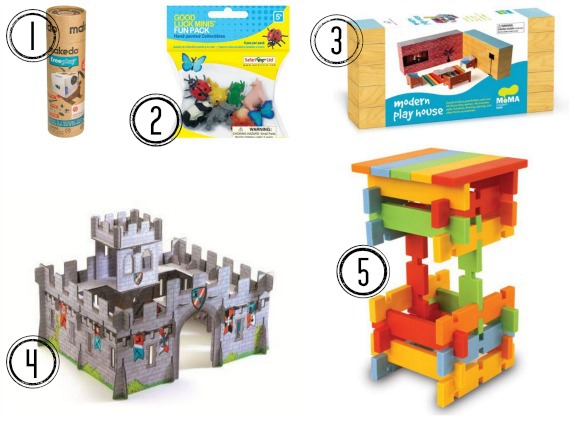 1. Makedo FreePlay Kit For One
— If you've ever watched a young child play with a cardboard box, you will adore this Makedo FreePlay Kit. Makedo is a system of reusable connectors and hinges for cardboard that allows kids ages 5 and over to create amazing toys and play spaces! There is even a safe-saw included so even school-aged children can cut through thick pieces of cardboard safely. We have found this to be one of the best toys for fostering imagination and creative play because the possibilities are virtually endless, and very eco-friendly too! Pieces store easily inside the provided canister, and Makedo would be a fantastic addition to any classroom as well!
2. Goodluck Mini Fun Pack
— If you were to go through the contents of my purse, you are sure to find at least a few of these adorable Good Luck Minis in there because they are just the right size for keeping the kids occupied while in a waiting room or at a restaurant. Each piece is about the size of a quarter, and they have been meticulously painted by hand. There are 8 different creatures in each pack, and they are made to be phthalate and lead-free. These adorable minis have kept my kids happily occupied for long amounts of time!
3. MoMA Modern House (MoMA Modern Kids)
— You won't believe how many rooms and furniture can fit inside this super modern and sleek doll house. Kids can put together the cardboard furniture, then arrange the nested boxes however they would like to form the play space. This set comes with reusable (and re-positionable) decals too. It's the perfect size for wooden peg dolls, or the MoMA Modern Play Family
that is sold separately. One of the easiest to store doll houses ever!
4. Djeco / Pop to Play Medieval Castle
— This play cardboard castle is a lot of fun to build, and even more fun for the kids to play with! It can be taken apart and stores easily inside a very flat box. The cardboard is very thick and the pieces are very well-made. You may also want to check out the Safari Ltd. Knights and Dragon Toob to go along with this — it is a great combination!
5. Fat Brain Toys Dado Planks
— This set of 106 building planks doesn't take up a lot of room, but let's kids build large, complex, and intricate structures just the same. This set of Dado planks weighs just 3.3 pounds, and the colors are so bright and cheery! Terrific toy for developing fine-motor and early problem-solving skills, and really fun to play! For an even more storage-friendly version of these, check out Fat Brain Dado Squares Original
which can be taken apart and laid completely flat.
Disclosure: This post contains affiliate links. (Full disclosure policy here.) All opinions are my own.
Do you have a small or easy to store toy that is a favorite in your household? We would love to hear about it! Leave a comment and share your ideas with us!!