These creative party ideas (and room re-do project) are brought to you by Glidden via MomTrends.
As if the girls were not excited enough to have their room painted with Disney's Ready Set Glow! Specialty Paint, we recently hosted a little glow-in-the-dark Disney fairy party for some of their friends with a glowing room reveal and plenty of Disney fairy magic sprinkled throughout!
Clara's favorite Disney fairy, Tinkerbell, greeted everyone at a special table set with plenty of snacks, and crafty glow-in-the-dark activities.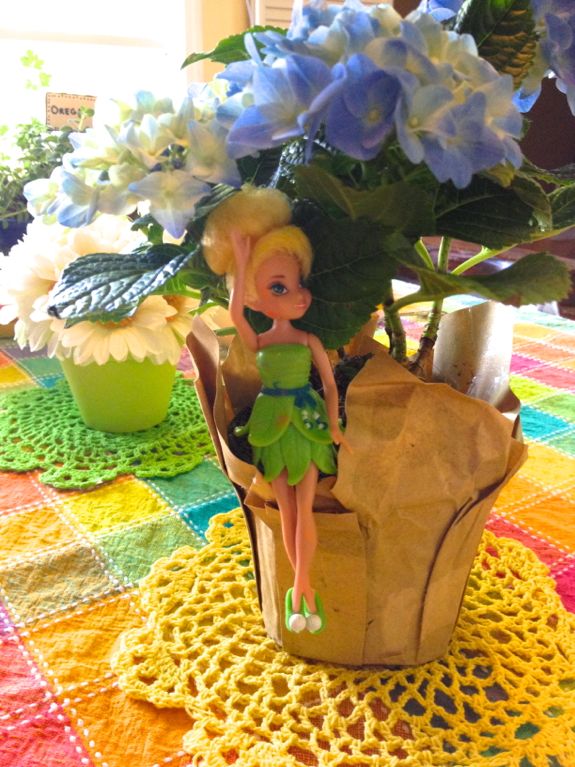 Our guests enjoyed popcorn, cheese & crackers, and trail mix on a table decorated with pretty flowers and twinkle lights. So festive!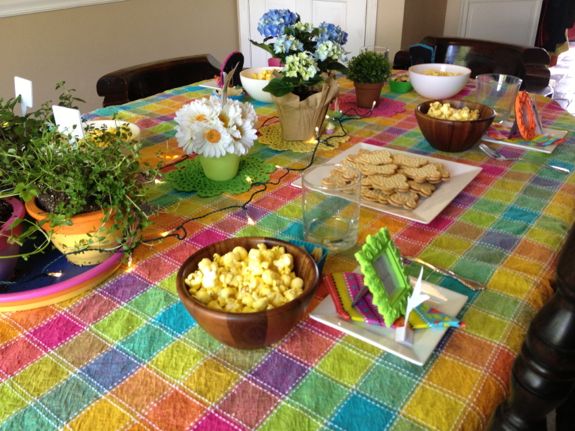 The kids' place settings were waiting for them with colorful picture frames to be re-used later to showcase their artwork or photo.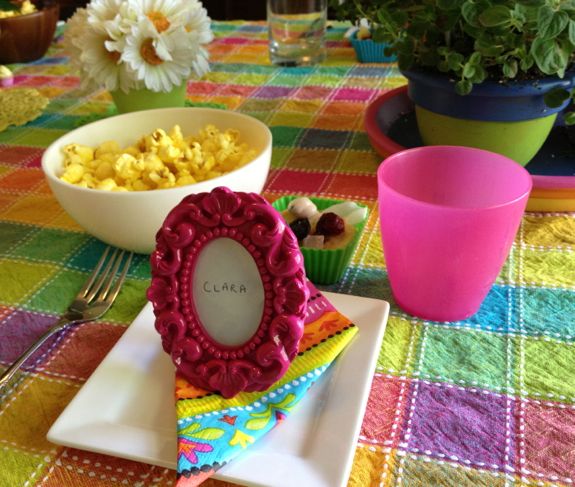 As an ice-breaker activity, our guests colored pictures of Tinkerbell as they waiting for the other guests to arrive.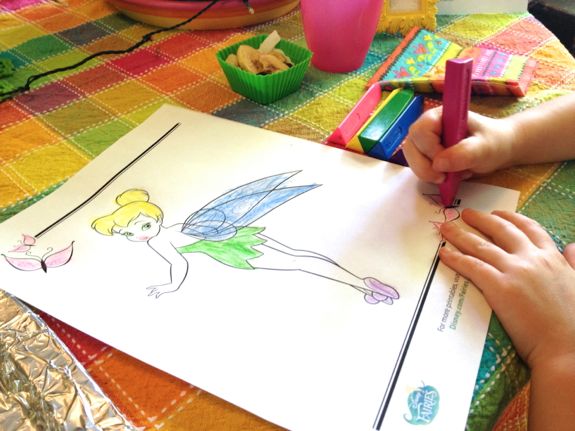 A big party hit among our little friends was the "build your own strawberry shortcake" dessert — so yummy! And so easy for me to prepare. Yay for simple party fare!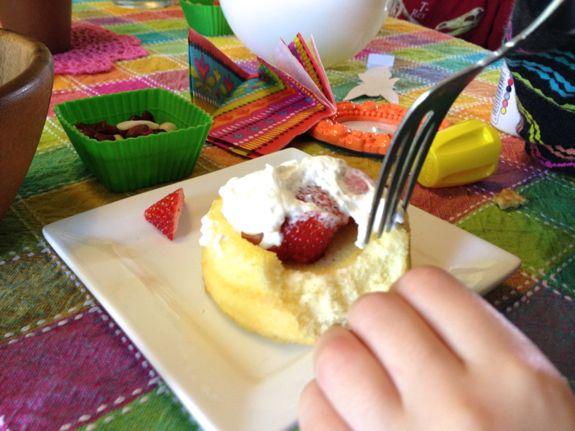 Next, it was time for the room reveal — Emily was quite excited to take our guests to her room, along with a flashlight, to demo the Disney Ready, Set, Glow in the Dark specialty paint to her friends! I had stenciled Clara's and Emily's names on separate walls along with several stenciled and free-handed stars — so pretty! [Tip: A quick and easy way to paint glow-in-the-dark stars using this paint is to dip the opposite end of a paint brush into the paint and apply dots to the wall.]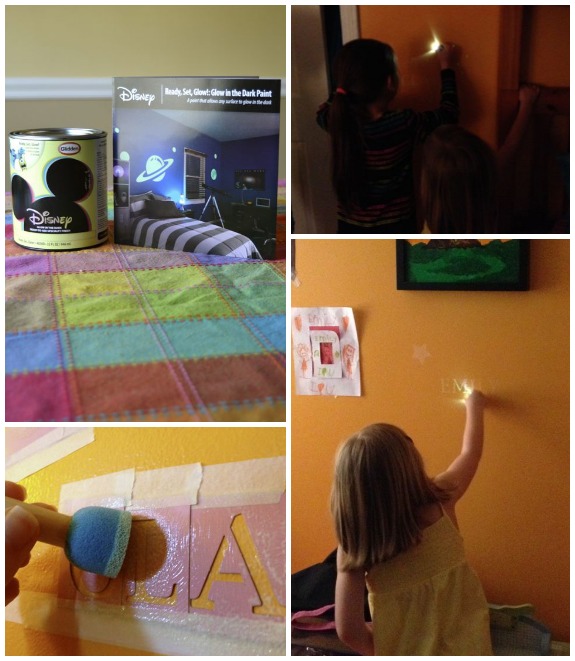 A few of things I love about the Disney paints:
* Low odor and No VOCs.
* Easily washable.
* Ultra-durable paint.
I also appreciate that the Ready, Set, Glow in the Dark paint glows for a maximum of 5 minutes, so it doesn't interfere with our bedtime routine, but provides just a bit of magic as the girls drift off to sleep. And that it easily gave the room a new look without having to re-paint the entire room!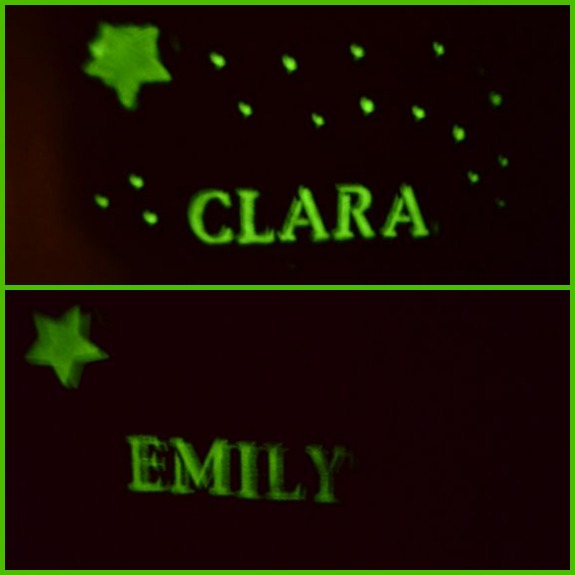 The girls are quite happy with how their room turned out, and several of their guests remarked how they would like the Disney Ready, Set, Glow in the Dark paint for their bedrooms too! We even got to give away a $50 WalMart gift card as a door prize, so maybe they will! I recommend this paint, and plan to use it on the walls of our creative studio as well.
Once the room reveal was done, our guests returned to complete a few glow-in-the-dark craft activities — door hangers, and glowing bracelets!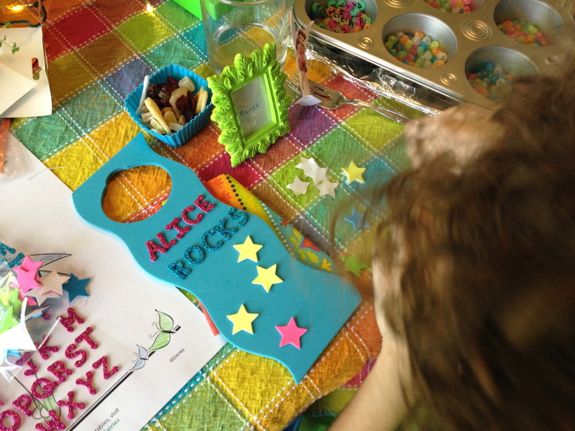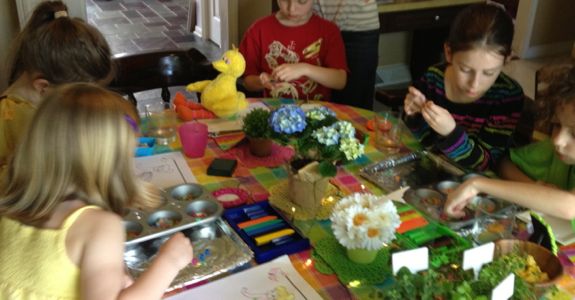 Everyone had such a great time!!
To learn more about Disney's specialty paints and finishes, including painting tips and inspirational decorating ideas, click here.
Disclaimer: Compensation and products for review were provided by Glidden via MomTrends. The opinions expressed herein are my own and are not indicative of the opinions of Glidden.