This post is from our newest contributor, Arlee Greenwood of Small Potatoes. You're going to love her!
"Each day learn something new, and just as important, relearn something old." ~Robert Brault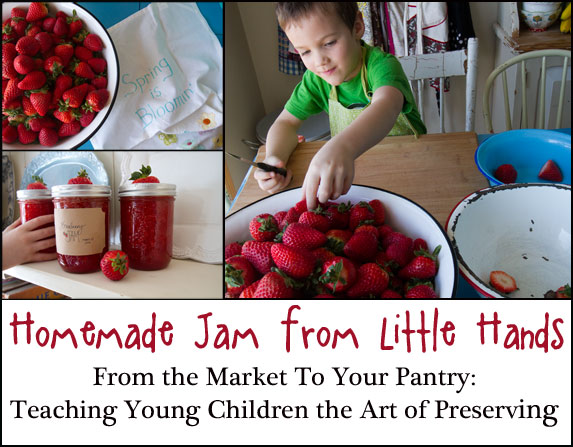 I spent countless hours as a child, sitting in my mother's kitchen watching her preserve fruits and vegetables from her garden. I was convinced that my mother was magic. The way she could turn a big box of tomatoes from her garden into a year's worth of salsa and spaghetti dinners without going to the store was incredible to me. And listening for the jar lids to "pop" as they sealed in the freshness of market peaches was an absolute delight. With each "pop" I would squeal and exclaim,
"Another one POPPED!! Did you hear it?"
When I grew up and moved away and began to build a home of my own, I never forgot the way watching my mother preserving food had stirred my soul. To me there was no other choice than to learn to do it myself. Oh, if only I had actually done some of the work myself instead of just watching! It took many phone calls home to my mama and a lot of failed jars of peaches, jams and jellies until I finally got it right, but I did it. And it's a thing of beauty.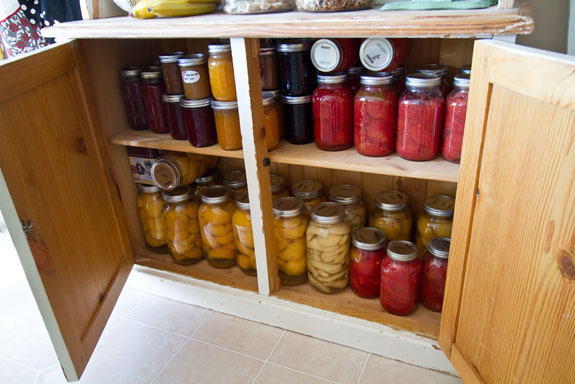 Now my own children are learning this valuable skill, only instead of watching me, they are doing it with me! We have not bought a can of tomatoes, peaches, pears, or jar of jam for nearly 18 years! This not only saves on our grocery bills, and supports our local farmers, it also teaches my children that they can be self-sufficient in providing for their family. From the plain, "un-squashed" berry to the sealing and labelling of the jars; they are happily engaged in each step…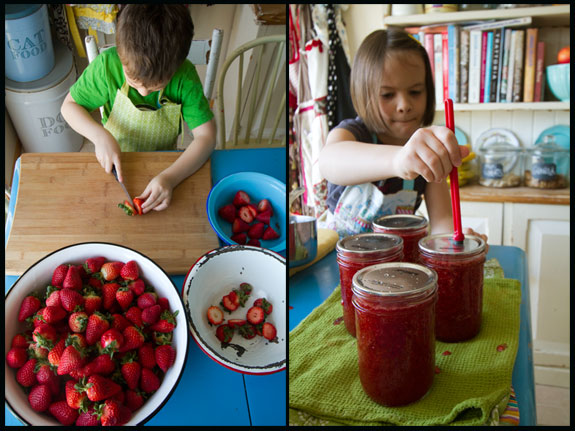 My two youngest, ages 6 and 8, are the newest jam-making scholars in our house and they are quickly becoming little professionals.
Here's a list of what you will need to make a lovely batch of strawberry jam with your little ones…
– 4 pint-sized jars with seals and rings, washed and sterilized.
Even the smallest child can do the washing part. We use a plastic washtub and wash one jar at a time as to not smash glass on glass. I sterilize the jars by putting them in my oven at 250F while I make the jam so they are hot when it's time to pour the jam into them.
– 6 cups crushed strawberries
– 4.5 cups sugar
– 1 package of CERTO Light Pectin Crystals
We use the light pectin so we don't have to spoil the taste of the berries with too much sugar.
You'll also need:
– A big pot for boiling the jam.
– A little pot for boiling the sealing lids.
– Tea towels, oven mitts, a wooden spoon, and a heat proof measuring cup with a spout.
Start by washing your jars and placing them in the oven to sterilize. Prepare your strawberries by washing and hulling them. I allow my son cut the tops off with a small paring knife and our hens eat the tops for dessert later in the day…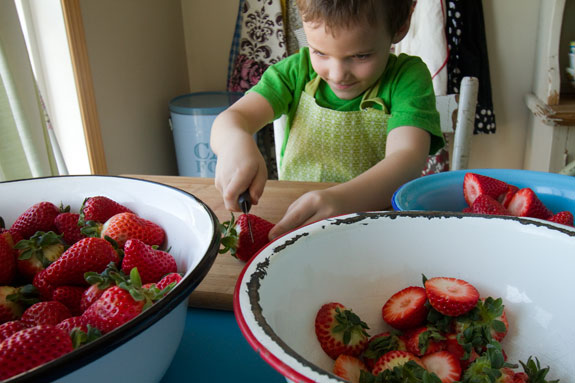 Place the prepared berries in a bowl and crush them with a potato masher, or into the food processor and pulse until berries are crushed…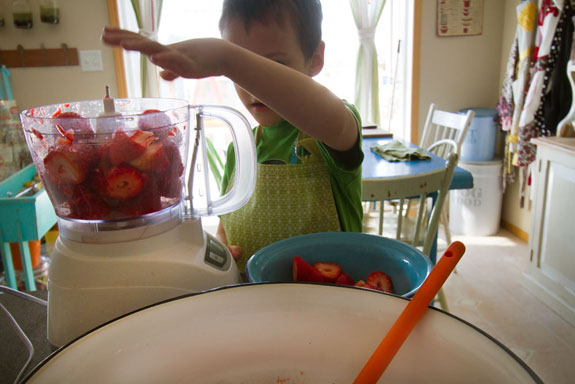 Now place pectin crystals into a small bowl with 1/4 cup of your sugar and mix. Place your 6 cups of prepared berries into a big pot on your stove. Stir in the pectin and sugar mixture. Now bring your pot of pectin and berries to a boil over high heat. Add the rest of the sugar. Stir and return to a hard boil for one minute. My 8-year-old likes to do this part. She watches the clock like a hawk and does NOT let it boil over the minute's time…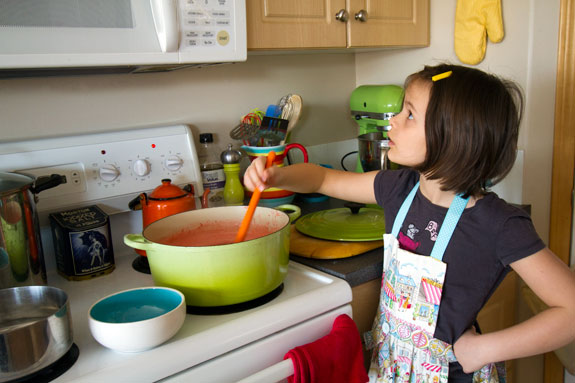 Once the berries, sugar and pectin have boiled for 1 minute, remove from heat. Stir and skim for 5 minutes. The skimming is basically taking off the floating fruit and foam that rises to the surface each time you stir. I use my wooden spoon to do this.
While I'm skimming, my boy likes to put the lids in the saucepan for boiling…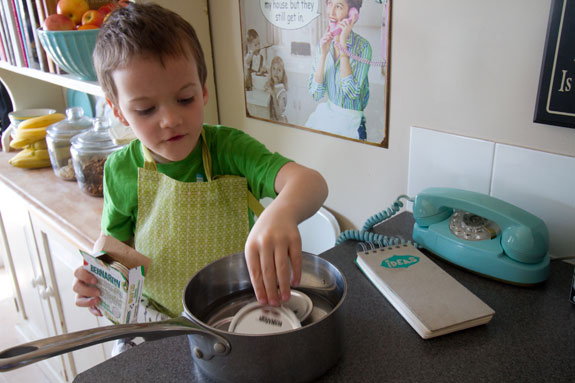 Boil for 1 minute, just to sterilize them. You do not need to put the rings in the boiling water.
Place your hot jars out on a tea towel and pour the hot jam into them with a heat proof glass measuring cup with a spout. Fill the jars 1/4 inch from the rim. Make sure the glass rims around your jars are clean and free from spills or your jars won't seal. Place the lids on…we use a magnet on the end of a plastic rod for this so the kids can do it without burning their fingers. Screw the rings on tightly.
And now the best part…
Listen for that glorious "pop!"
………………………………………………………
Now, "pop" on over to Arlee's blog Small Potatoes to find out how to make homemade bread to go with your fresh made jam. Yum!!