Enjoy a delicious, healthy and hearty twist on the classic blueberry muffins, complete with honey, wheat, oats and wheat germ! A breakfast every member of the family will love! This post is sponsored by our partners at the Learning Tower by the Little Partners, who provided the Learning Tower for me to use and review.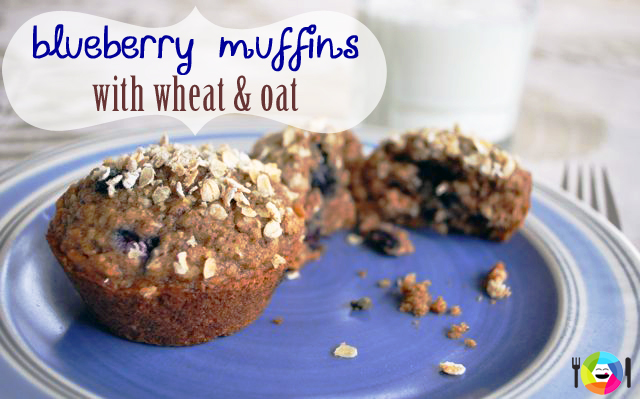 I am not a morning person. I really really wish I was, but try as I might to change it, I'm still grumpy, foggy and stumbling out of bed every morning. Even after three children, two of which are morning little people and love to wake up at the (butt) crack of dawn, my body still hasn't adjusted. So, preparing healthy breakfasts for my family as soon as I wake up just ain't gonna happen! If I want them to have something other than fruit and cereal (which can be a very good breakfast!), I have to plan and prepare ahead.
I'm always looking for new and interesting breakfast recipes to get a break from cereal every morning, and this one for blueberry wheat oat muffins has become a family favorite! It is so delicious and filling with the wheat flour, honey, oats and wheat germ. The boys and I made it one afternoon and enjoyed them for several mornings. I have found that baking with kids is a great way to get them in the kitchen and we had so much fun making these muffins together. And it was so easy for my boys to be right at the counter with me with our Learning Tower.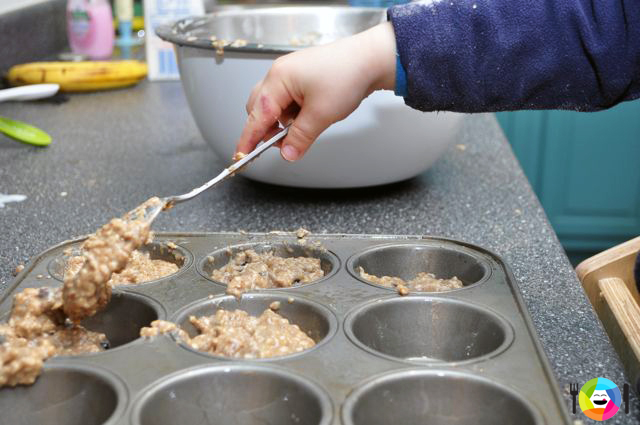 I had the boys stir all the ingredients in a large bowl, which was great practice for sharing and taking turns with just one bowl! I love how it's so easy for the boys to stand safely side-by-side in the Learning Tower.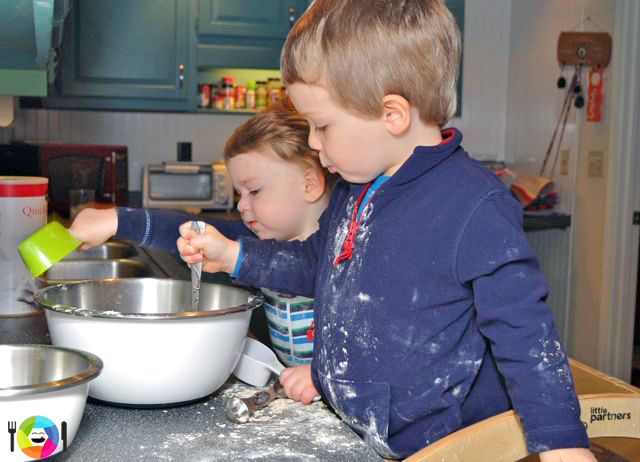 But just because they're safe doesn't mean it doesn't make a GIANT mess! It's like a sensory bin with all that flour and they just couldn't keep their hands out of it. They had so much fun measuring out the ingredients, pouring them into the bowl, stirring and then plopping them into the muffin pan.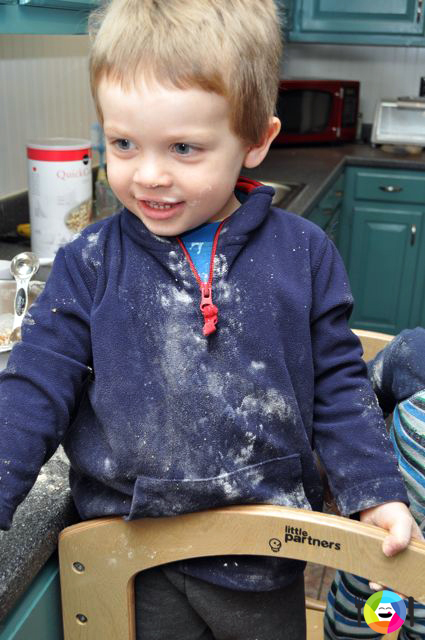 Do you have any posts for cooking and baking with your kids? We invite you to share your links and tips below for making it fun for the kids and stress-free for the adults.

Blueberry Wheat and Oat Muffins Recipe
Author:
Sara, adapted from Dash Magazine
Recipe type:
Breakfast - Baking
A delicious and hearty twist on a classic muffin recipe.
Ingredients
¼ cup flour
¾ cup wheat flour
2⅓ cups quick-cooking oats plus a couple of handfuls for a topping
½ raw honey (local is best) OR raw sugar
3 tbsp. wheat germ (for added protein)
1½ tsp cinnamon
1½ tsp baking soda
½ tsp salt
1 cup buttermilk or 1 cup milk and 1 tsp. lemon juice
½ cup vegetable oil
1 egg
1 cup blueberries
Instructions
Preheat oven to 375 degrees and line your muffin pan with paper cups or spray.
Combine all your dry ingredients in a large bowl - flour, wheat flour, oats, sugars, wheat germ, cinnamon, baking soda and salt).
In a small bowl, whip the egg with a fork and add the rest of the wet ingredients (buttermilk and oil). Stir to combine and then add to the dry ingredients.
Combine all the ingredients using either a fork or a hand mixer.
Pour in ½ cup boiling water (to begin cooking the oats), stir and set aside for 5 minutes.
Gently stir in the blueberries.
Spoon the batter into the pan and sprinkle oats on the top of each muffin.
Bake for 15-20 minutes, or until golden brown and a toothpick inserted in the middle of a muffin comes out clean.
Cool for 5 to 10 minutes in the pan on a wire rack, then take out and continue cooling.
Eat with a tall glass of milk and enjoy with your precious little ones!
Makes about 1 dozen muffins.
This post is linking up at Teachers of Good Things