We love to explore different art techniques! Some are common techniques that get used often, such as painting, drawing, and sculpting with clay or play dough. Other techniques we use sporadically, like stamping! Whenever we bring out the stamps we always have a good time. You can try stamping, too. Make your own stamps with objects you probably have around the house!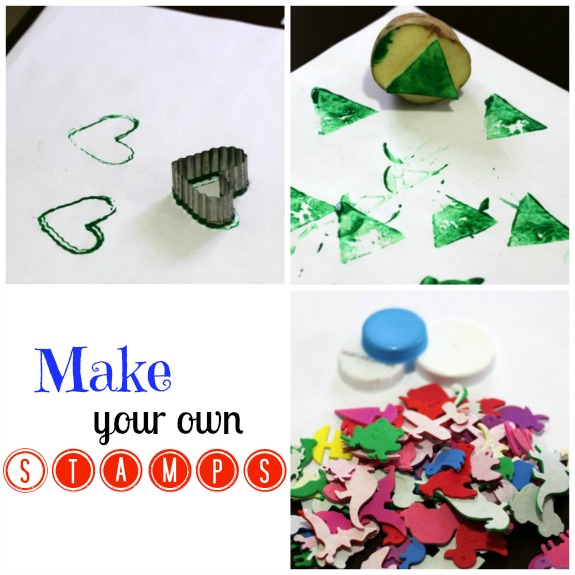 Simple ways to make your own stamps
Here are few easy ways to make your own stamps. Many of them don't even require an adult's help! These ideas will work using stamp pads as well as paint.
Use cookie cutters: cookie cutters make great stamps, just dip them in paint and stamp away!

Use fruits and veggies: potatoes are easy to carve into any shape you'd like, you can also use apples, celery, carrots, etc.
Foam stickers and bottle caps: Save those bottle caps! Stick foam stickers to the top, instant stamp! 
Cardboard: Glue materials like yarn, netting, leaves, crumpled paper, anything you can imagine! onto cardboard squares to make a set of texture stamps
Toys: Go through the toy box to find fun things to stamp with. Wooden blocks, plastic animals, and even dice can make interesting stamps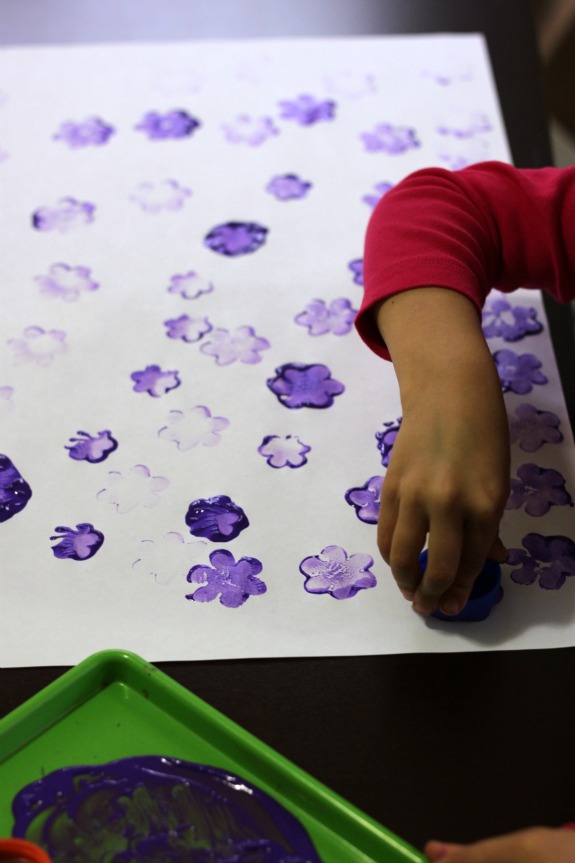 What to do with your stamped paper?
Now that you have a bunch of stamped paper laying around, what do you do with it all!? Here are some suggestions:
Use it as wrapping paper

Cut it into strips to make bookmarks
Cut it up for collages
Use it as the background for a painting or drawing
Mount photographs onto it for a scrapbook page
Use it as the background in a shadowbox
Cut it up and make notecards out of it
Fold it in half and staple blank paper into it for a quick journal
Don't stop with paper!
You don't only have to stamp on plain white paper! Try stamping on these:
Paper bags

Cardboard
Wood scraps
Bodies (if you're feeling adventurous!)
Newspapers and magazines
Tin foil
Windows
Tissue paper
Trinket boxes
Fabric
Mounted canvases
When you make your own stamps, you'll get unique results every time. Setting up for a day of experimenting with stamping is sure to not only get the creative juices flowing, but also create fun memories in the process!