Several weeks ago, my husband and I decided to take the boys on an outing to the local art museum.  An art museum has a completely different culture and set of rules than a children's discovery museum and I'll admit, I had concerns about whether or not they would behave appropriately during this new experience.  Aside from a single almost-catastrophe when I grabbed Owen just as he was about to climb into a British Victorian era chair, they did just fine. In fact, the museum docents complimented their behavior (they must have missed the chair incident!) and I left the museum feeling confident that the experience was a success. However, it wasn't without patience and practice, and I would like to share what I learned!

Review Your Expectations
Expectations for your child's behavior should align with the rules of the art museum. Ask your child:
What does "do not touch" look like? Sound like? Feel like?
What do "walking feet" look like? Sound like? Feel like?
What do "quiet voices" look like? Sound like? Feel like?
Firmly review your expectations with your child before entering the museum, and demonstrate confidence that your child will follow the rules.
Stroller-free By Design
Allowing your child to walk in the art museum gives you an opportunity to teach him the socially appropriate way to behave. Hold his hand and walk slowly through the exhibits pointing out colors, shapes, artists, and objects. When your child pauses to look at a painting, crouch down to his level and survey it from his perspective. Ask him:
What is interesting about this painting?
How are the people feeling in the painting?
How does this painting make you feel?
Forgo the 10 lb Diaper Bag
You know you don't need even half of the things in it, and though they seem essential, apple juice and crackers are not allowed in the gallery anyway. Use a small bag that you can hang over your shoulder that only contains the bare essentials. Your shoulders will thank you!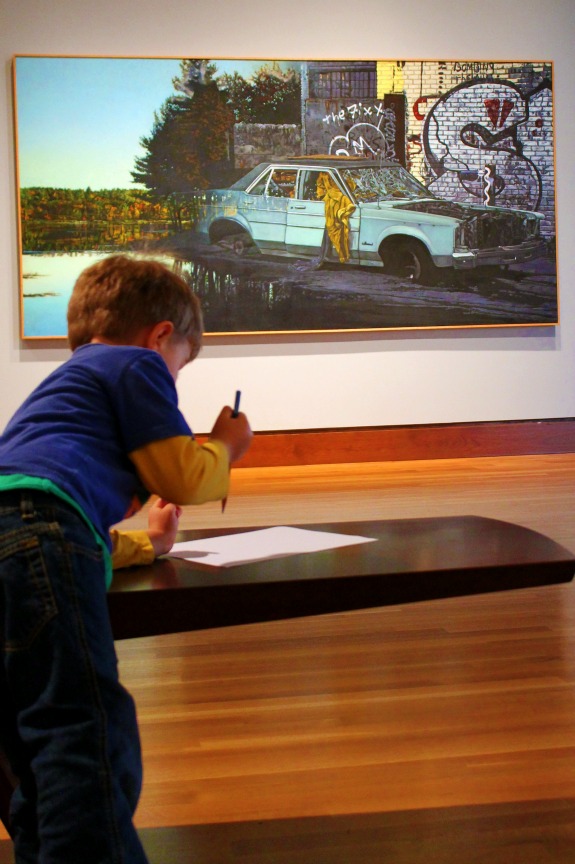 Model Appropriate Behavior
If you speak softly and gently, your child will mirror your voice and do the same. If you smile, act interested, relaxed, confident, and happy, so will your child!
Follow Your Child's Lead
If she desires to spend quality time examining 1950s Pop Art, allow her do to so. If she wants to move on, even though you are still admiring a Picasso, ask her to wait just 1 more minute (giving children an opportunity to wait teaches patience), and then allow her to choose the next gallery. If your child's attention span is exhausted after 30 minutes and you can sense that she is ready to leave, get out of there before the imminent meltdown occurs!
Bring an Activity
A planned activity will invite your child to further engage with the art and give him a break from rigidly controlling himself (which is exhausting for a child!). I brought along colored pencils and a sketchbook and invited the boys to recreate their favorite piece of artwork.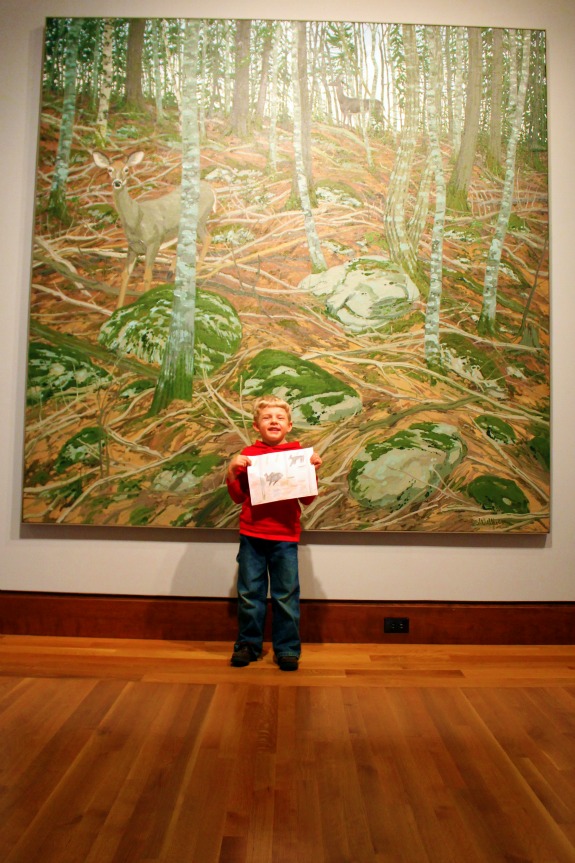 A visit to the art museum is enriching, educational, and fun while providing children with an opportunity to practice self-control in an environment with high standards of conduct.
Have you ever brought along young children to the art museum? Please leave a comment and share your tips, tricks, and experiences below!