Toy Fair is one of the biggest toy events in the world, and this year they celebrated their 110th birthday at the Javits Center in NYC! Toy Fair is not open to the public — only those directly involved in the toy industry are permitted to attend. Want to see all the latest and greatest NEW toys from my friends at Melissa & Doug?? I'll give you a special sneak peek!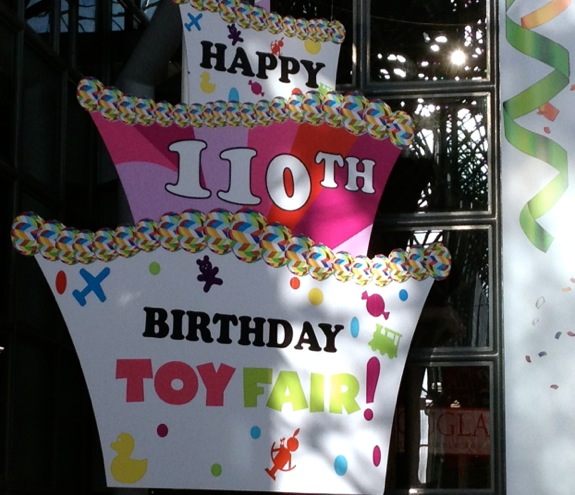 If you ever find yourself at Toy Fair, the Melissa & Doug booth is the place to be! They have one of the largest and most popular booths at Toy Fair. This place was hopping!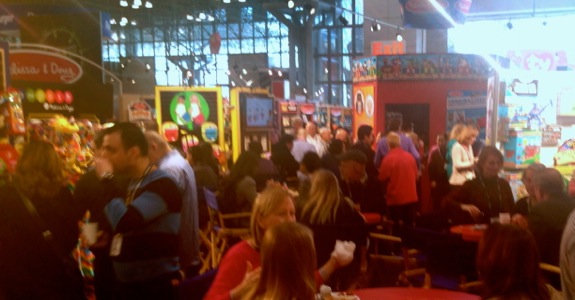 My fellow Melissa & Doug Blog Ambassador, Amy from Teach Mama, and I spent most of our time giving tours of the booth, playing with new toys, crafting with Scratch Art, dressing up in silly outfits, painting with water….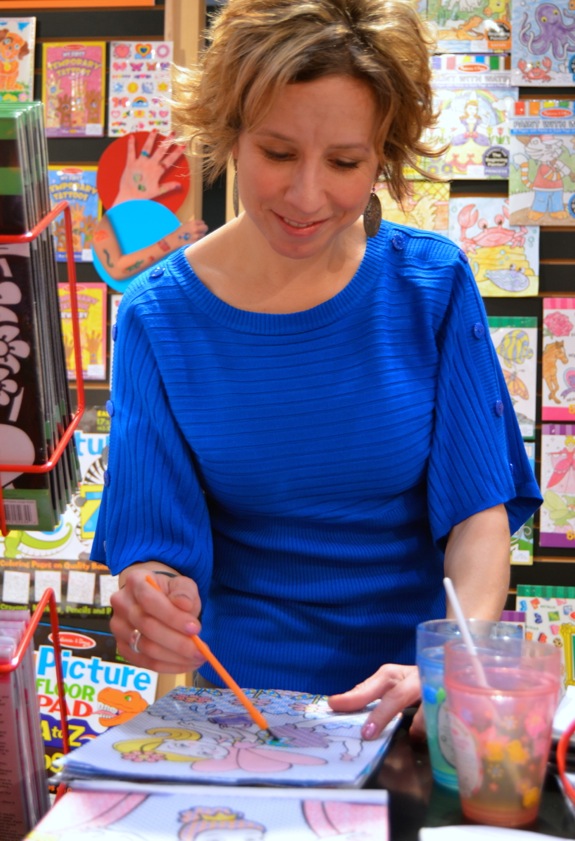 … and seeing many of our other bloggy friends in person! (Shout out to Sherry of Baby Pop and Silke of Mama Latina en Philly shown below!)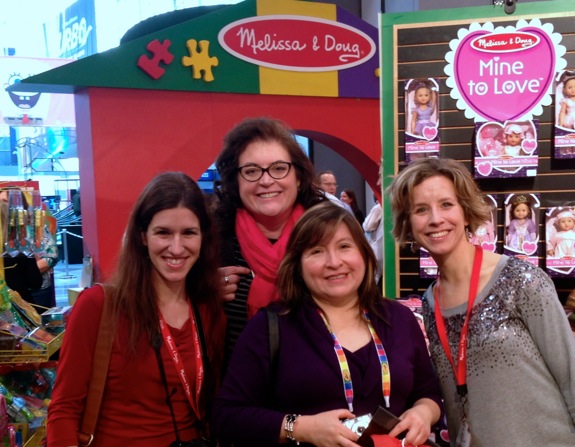 Melissa (yes, THE Melissa) treated many bloggers and members of the press to an in-depth tour highlighting all of the new and exciting products. Her entire face lit up while she talked about the toys and how they are designed to inspire plenty of creative play time fun!! Their dedication to strict safety standards is truly remarkable. Doug later joined in the fun too! If you didn't already know, yes there is a REAL Melissa and Doug — they are married to each other and have SIX kids!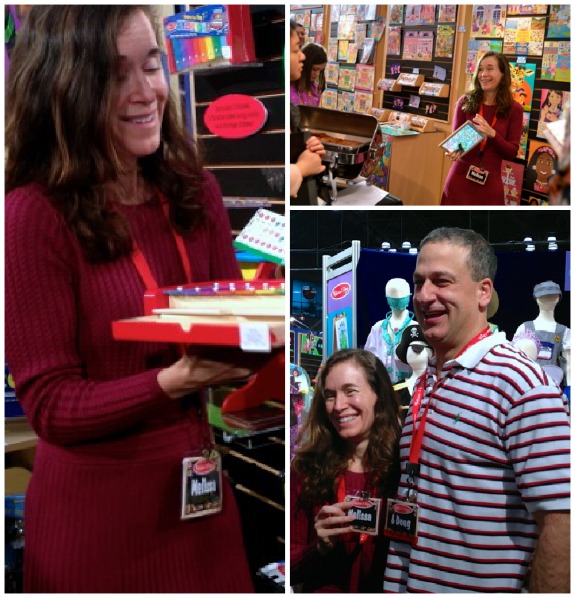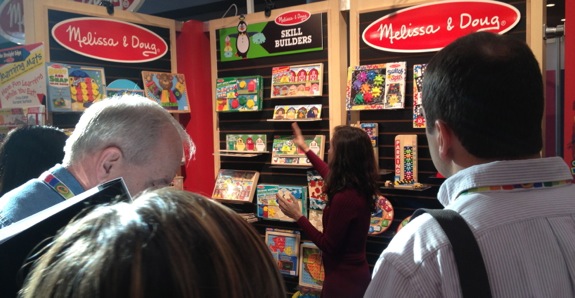 Here are just SOME of the new toys coming later this Summer and Fall to a toy store near you…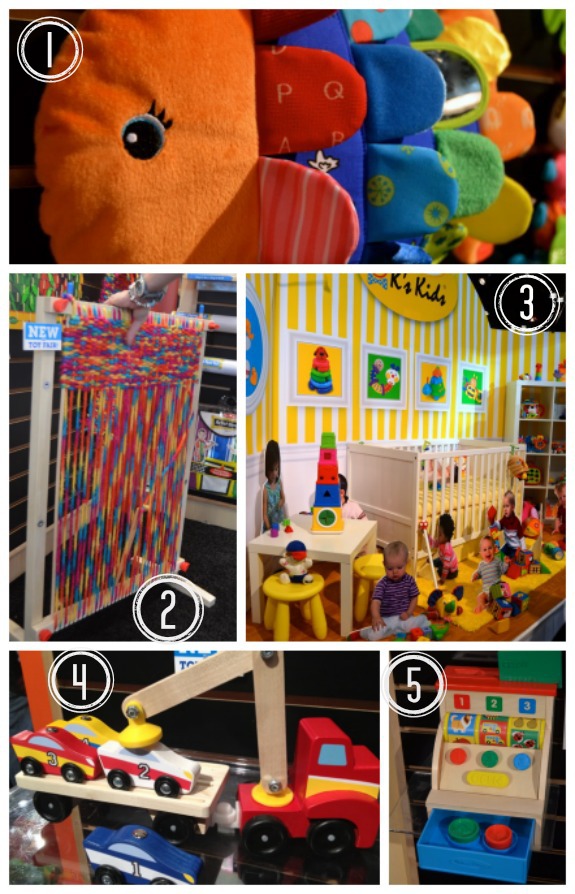 1. Part of the NEW baby line by Melissa & Doug, K's Kids, this adorable fish is packed with sensory features. The fish's scales crinkle and crunch, and it's the perfect size for lots of cuddling too!
2. Large Weaving Loom — When my 8 year old saw the first photos of this weaving loom from Toy Fair, she went nuts for it!! Kids can make scarves, purses, or rugs out of yarn. They can even weave with paper too!
3. K's Kids — An entirely NEW line of colorful and beautiful baby toys!!! Each toy is designed to last through at least two stages of development, and products run from infant through ages 4 or 5. Available in stores beginning in August.
4. Magnetic Race Car Carrier Set — I can already tell this is going to be a big hit! What could be better than race cars and magnets??
5. Wooden Cash Register — I get a little too excited when I see play cash registers, and this one is adorable! There's even a slot for the credit card!!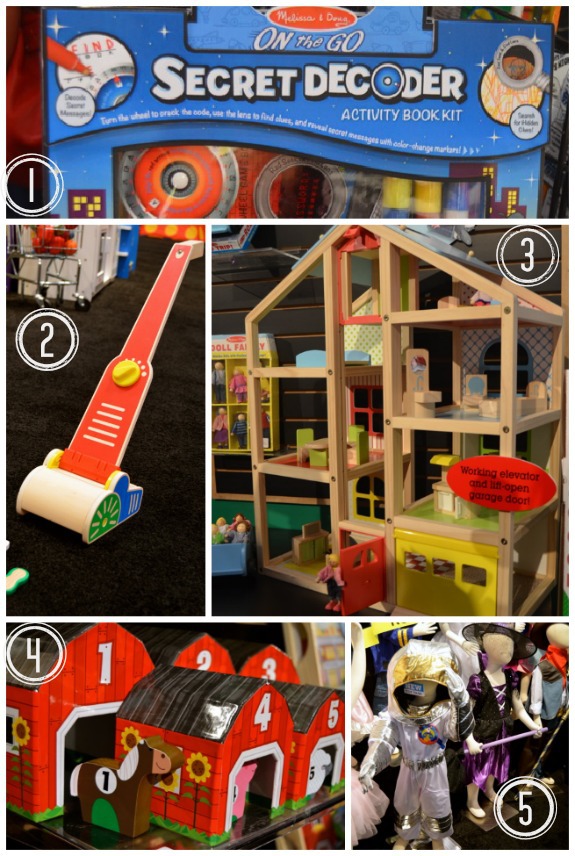 1. Secret Decoder On-the-Go — Search for hidden clues and decode secret messages. This Secret Decoder kit is sure to provide hours of play time fun!
2. Let's Play House Vacuum Cleaner — How cute is this?? It comes with pieces to be swept up by the vacuum cleaner too. No batteries!
3. Hi-Rise Dollhouse and Furniture Set — This dollhouse is equipped with a working elevator, and comes with 3 play people and 14 pieces of furniture. The open design easily allows for multiple kids to play at one time, and kids can easily position the people inside. Seeing this dollhouse made me want to be a kid again!!
4. Nesting and Sorting Barn Animals — Another fantastic NEW toy, and I particularly recommend this one for those living in small spaces. The barns can be nested and take up very little room when not in use. The set comes with adorable wooden animals too. So cute!!
5. Role Play Astronaut — What I love about Melissa & Doug role play dress up sets is that they include all of the props too. This astronaut set comes with the helmet hat and space gloves. I can already envision my 4 year old taking many trips to the moon with this!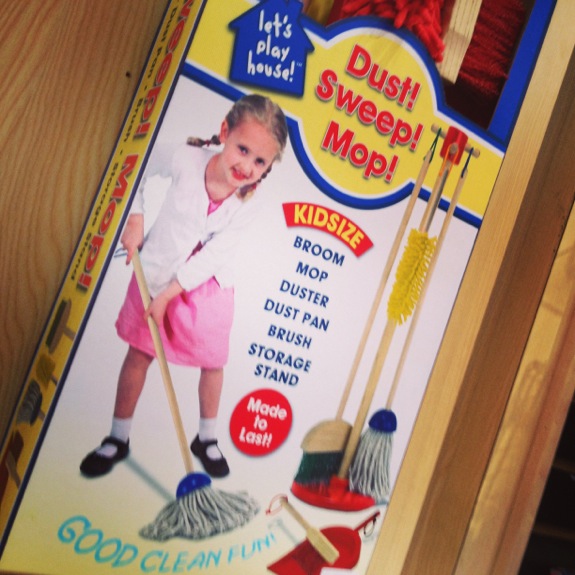 I was also particularly happy to see a NEW high-quality cleaning set from Melissa & Doug, since my 4 year old enjoys cleaning the house so much (especially mopping floors). Yay for little ones who love to help!! It's pretend play and a life-skills lesson all in one!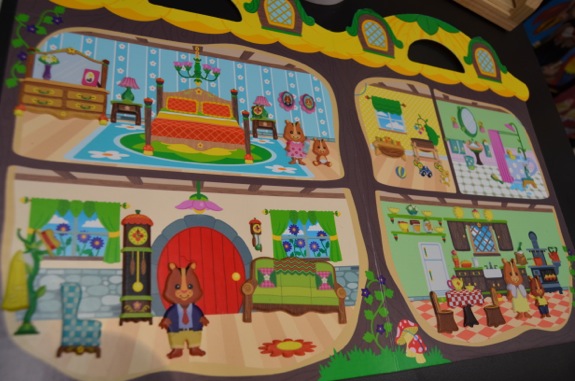 And I had FAR TOO MUCH FUN with this Chipmunk Treehouse Puffy Sticker set, but can you blame me?? It's completely irresistible.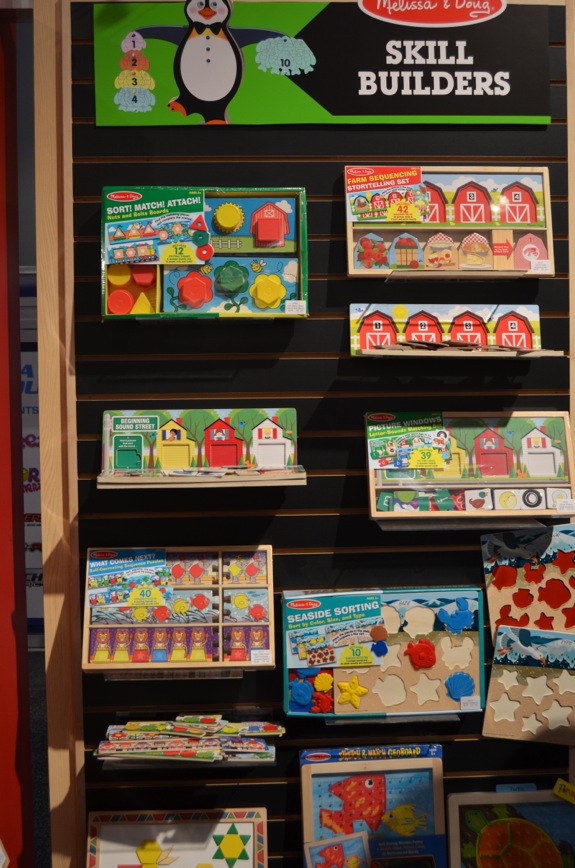 Another product line I was excited to see is the new Skill Builders line! These are perfect for sneaking in even more learning during play time with lots of practice for pattern recognition, sorting, sequencing, and storytelling.
So what do you think? Which products are you most excited to see?? Leave a comment and share your thoughts with us!
Disclosure — This post was written as part of the Melissa & Doug Blog Ambassador program. All opinions are my own. A big thank you to Melissa & Doug for inviting me to attend Toy Fair with them, and for making it loads of FUN!! Thanks also to Amy of Teach Mama for putting up with me and my roommate antics. If you want to see even more from Toy Fair, she has a fantastic recap post on her blog too. She's the bestest!! xo