This is the perfect little Valentine's treat to make for and with your little sweeties made of crispy rice cereal, oatmeal, peanut or almond butter and more! It's a much more nutritious version of Rice Krispie Treats since it contains no processed marshmallows and has an added punch of protein.
We traded in the processed sugar of most holiday treats for natural peanut butter or almond butter, raw honey, oats and chocolate and created one heck of a delicious treat! These are perfect for sharing with your child's classroom, teachers, or a Valentine's party. They are crunchy, sweet and so tasty – they are almost like crunchy Reese's Peanut Butter cups. The batch we made this afternoon was gone in just a few hours, with a big thumbs up from both kids and adults alike! The best part is that you can use almond butter to make it allergen-free and it's 100% gluten-free! My inspiration for this recipe came from Babble.com.
Gabe, who's only three, and I had lots of fun making these together and he did almost everything except to melt the peanut butter and honey on the stove. Unfortunately  little bro, who loves to cook as well, was really sick and couldn't participate. As always, we talked about the fractions of the recipe to incorporate some math learning. I was also very excited to have the chance to use our new Learning Tower from the Little Partners. It made it so much easier for me (I'm eight months preggo!) to keep Gabe safe at the counter – he wasn't falling off the chair or step stool, which has happened many times before, and was flush against the counter.
With this recipe, you can have your child (all with supervision, of course):
Measure and pour out the honey – yes, it does get messy but I found it was very easy to wipe down with just a wet washcloth. He didn't have on an apron, but it's probably a very good idea!

Measure and scoop out the peanut butter – this is great fine-motor skill and concentration practice
Cut the 2 tablespoons of butter or margarine with a knife
Measure and pour in the oats and crispy rice cereal and stir all the ingredients together (with supervision because the saucepan is hot) and then have fun eating the chocolate chips!
Clean up when finished – Gabe wipes down the counter with a washcloth and scoops the crumbs into his hands and dumps them into the trashcan.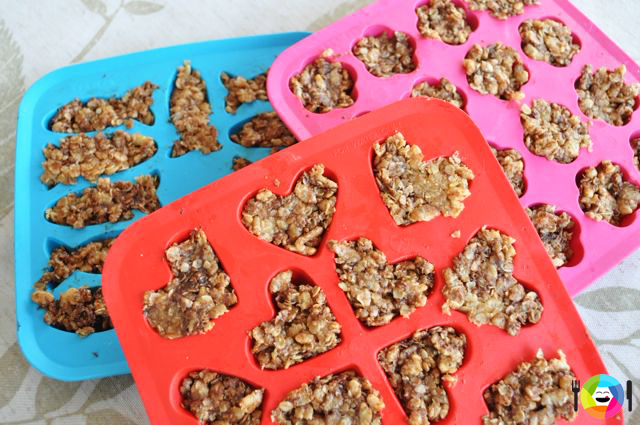 We scooped our treats (while still warm) into these adorable molds I bought at Ikea – hearts, flowers and fish. After I refrigerated them for about thirty minutes, they popped right out of the mold with no problem or effort! I was so pleased with the result and Gabe, who currently has a fascination with sharks, chose to eat only the fish. We used all-natural peanut butter, the kind where the oils separate and you have to stir it because there is no added sugar. These were already quite sweet, so they really don't need more sugar from regular peanut butter. We also used raw, unprocessed local honey which contains less sugar and more nutrients than processed honey with sugar added.

Crispy Rice and Oats Healthier Treats Recipe
A delicious and nutritious alternative to traditional Rice Krispie treats, with peanut or almond butter, honey, and oats!
Ingredients
⅓ cup raw, natural honey (local honey is best)
¼ cup natural peanut or almond butter (with no added sugar is most nutritious)
2 tablespoons butter or margarine
1 cup crispy rice cereal
1 cup oats
¼ cup mini chocolate chips
Optional - ¼ cup dried cranberries, raisins, or other dried fruit
Instructions
Place the peanut or almond butter, butter or margarine, and honey into a saucepan and melt over medium to low heat, stirring constantly. This should take only a few minutes.
Once melted, pour in the crispy rice cereal and oats and stir until combined.
Add the mini chocolate chips and dried fruit and stir well.
Scoop into a mold or muffin cups or pour into an 8x8 baking pan and refrigerate for 30 minutes to an hour until set.