We've already shared many fun soup recipes and ideas for getting the kids actively involved in the process of making soup here on Inner Child Food this week. Here are 10 of our favorite story books about soup to read to the kids while you're waiting for your delicious homemade soup to simmer!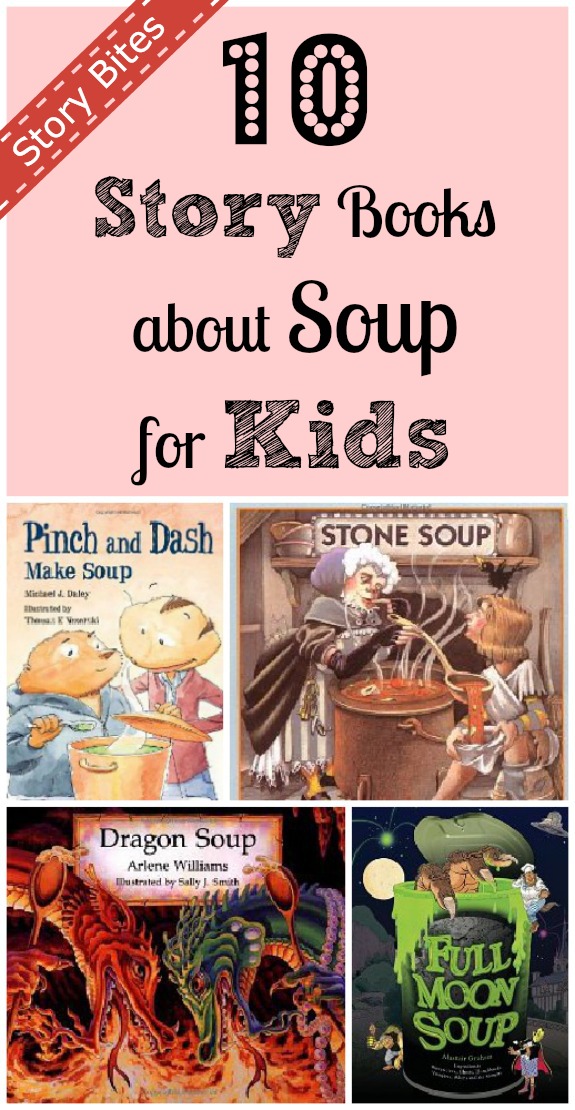 1. Stone Soup
— This is a classic, and it would be a fantastic theme for a play group too. A hungry stranger comes to a village with nothing to eat. He puts a stone in a pot and explains to the curious villagers that he is making stone soup, but he only needs a carrot, or just a potato, etc. One by one, each villager brings one item to add to the pot. For a play group, put a pot of broth on the stove, and ask each child to bring just one item to put in the soup. Don't forget to take turns stirring!
2. Surprise Soup
— Mama bear has just had a baby. Daddy and his bear cubs are busy making up a pot of soup for when they come home, but something is missing. Find out what the "secret ingredient" is, and how even the littlest chefs can make a big impact in this adorable story book.
3. Dragon Soup
— Two dragons fighting over who has the best soup recipe, a great lesson in conflict resolution, and beautiful illustrations are just some of the features found in this book. Recommended for ages 4 and up.
4. Growing Vegetable Soup
— A detailed account of how vegetables are grown, harvested, and then used to create soup. I love how this book explains where our food comes from.
5. Everybody Serves Soup
— Carrie is busy shoveling snow as a way to earn money to buy her mother the perfect Christmas present. While visiting with her multi-cultural neighbors and sampling soup recipes from around the world, she has an idea for a great handmade gift!
6. Bone Soup
— This book can be described as a Halloween-themed version of Stone Soup. It is full of spooky whimsy and is really fun to read to the kids. It's just the right amount of gross, with super lovable characters and beautiful illustrations.
7. Grandpa's Soup
— A lovely story about grief and healing. Grandpa sits alone for days, hardly eating anything after the death of his wife leaves him terribly depressed. One day, he decides to make the soup his wife used to make for him. Assuming he will be the only one eating it, he uses the smallest pot. However, he has to keep making bigger batches when he is repeatedly visited by hungry friends who come to share his meal. Soon, Grandpa discovers that sharing with his friends is a great cure for his loneliness.
8. Uncle Willie and the Soup Kitchen (Reading Rainbow Book)
— When his nephew has off from school one day, Uncle Willie takes him around as they prepare to work in the soup kitchen where Uncle Willie works every day. Uncle Willie's attitude and enthusiasm is contagious, and the soup kitchen is portrayed as bright and cheerful. Great for generating discussion on hunger, poverty, and helping. Recommended for ages 4-8.
9. Pinch and Dash Make Soup
— Pinch and Dash are two great friends who do things differently, but always seem to come together in the end. When they argue over ingredients, will it ruin the soup? Will their friendship survive?
10. Full Moon Soup
— Not a story book, per say, but a wordless picture book for ages 5-105. The chef at the Hotel Splendide has cooked up a suspicious looking soup that leads too all sorts of crazy things in this wordless picture book with very detailed illustrations. Kids love picking out things that are silly or outright ridiculous in this book!
(Note: Some links in this post are my referral links. Read my disclosure policy here.)
Have a favorite soup story book that I forgot to add? Leave a comment and share your recommendations with us!