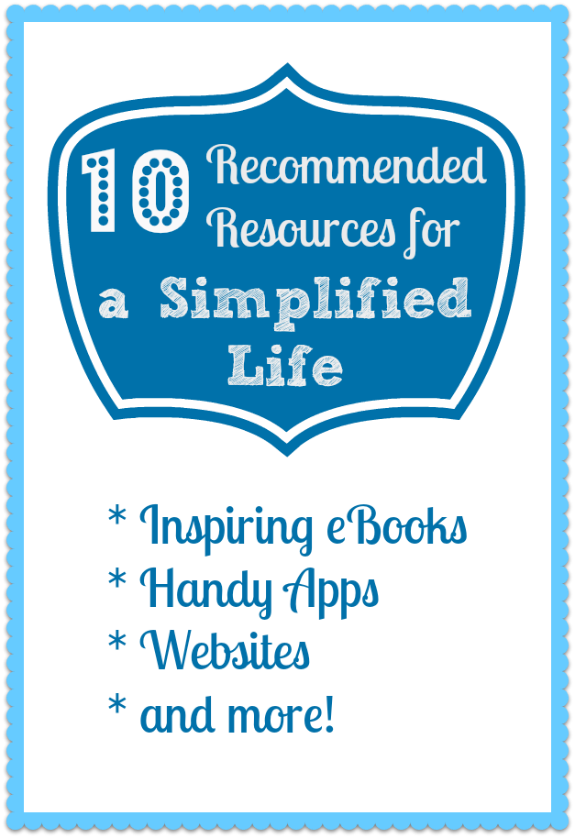 With the New Year comes the opportunity for a fresh start! Here are some of our favorite resources to help you simplify and organize your household with tips to clean the clutter, organize your time, and foster relationships. I love tools that help me spend more quality time with my family. Wishing you all the best for 2013!!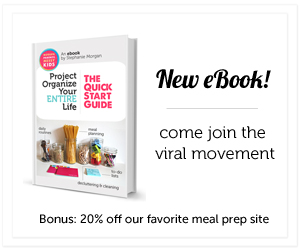 1. Project Organize Your ENTIRE Life by Stephanie Morgan ($6.99) — If you want to simplify your life for the upcoming year, but need a bit of motivation, Stephanie's eBook is the answer. Not only does her eBook offer practical tips on how to get started, but she also includes plenty of other online resources to help you get organized and stay organized. You will feel inspired and ready to take on the clutter after reading her eBook! Click here to view more details.
2. Absolutely Organized: A Mom's Guide to a No-Stress Schedule and Clutter-Free Home
 by Debbie Lillard ($6.00) — I had the pleasure of meeting Debbie when we were guests on The 10! Show a few years ago. I have reviewed her book before, and refer to it often because it is one of my favorites. What I love about this book in particular is that it starts with a chapter on organizing your time. Great stuff here!
3. What the Most Successful People Do Before Breakfast: A Short Guide to Making Over Your Mornings ($2.99)
— I have never EVER been a morning person, so the title of this book intrigued me. Laura Vanderkam makes a powerful argument for the value of morning time. She successfully convinced me to make the most of the mornings, set my alarm clock an hour earlier, and then gives great advice on how to make the most of that time. A mixture of personal anecdotes, interviews and studies of time logs, and research to back up her claims. Highly recommend!

4. Peas and Carrots Studio Project 365 (Free) — For busy moms who want to nurture their creativity and cherish everyday moments, the Peas and Carrots Studio Project 365 is for you. Take a snapshot every day for 365 days, and share with a supportive community that values creativity. Led by Zina from Let's Lasso the Moon and Tiffany from Peanut Blossom, you'll find several ways to share your images online and get plenty of inspiration (and motivation) to see your project through to the end.
5. Any List (Free) — Mark and I use this app to coordinate our grocery lists and to-do lists. I love how groceries are automatically sorted by type, making it easy to find what you need in the grocery store, which saves time. If one of us needs to add an item to the list, it is instantly updated for the other one to see.
6. Evernote (Free) — I love Evernote and use it for many different purposes! It helps organize receipts, ideas, sketches, photos, websites, notes, and so much more. I can access all of my notes from a desktop computer or my phone, and share notes for collaborative work too.
7. Home Routines ($3.99)– Perhaps one of the best and most frequently used apps I use. Home Routine helps you manage your household repetitive tasks with reminders for a morning routine, evening routine, and rotates focus "zones" around the house to keep housework manageable without clogging up your email or calendar. I especially love the satisfaction of checking something off of the list!
8.Restaurant.com
(varies) — If your trying to organize a bit of date time with your spouse, Restaurant.com offers many deals that Mark and I have used for inexpensive date nights. We especially love that gift certificates can be bought in advance and they never expire. Just $6 for $25 Restaurant Gift Certificates
9. A Good Friend — One of the best ways to keep your New Year's resolutions is to ask a buddy to join you for support. Check in with a friend to share your goals and for accountability. Then, cheer each other on along the way! Don't forget to celebrate important milestones along the way!
10. Your Local Thrift Store — If you're looking to simplify your life, your local thrift store can be a terrific place to start. Call one to see what kinds of donations are accepted, then make a commitment to clear out one bag or box of clutter to donate every so often. Set a reminder using Home Routine (above)!
(Note: Some links in this post are my referral links. Read my disclosure policy here.)