Know what I love?? Tools that make my life easier. That's why I was so excited do a trial membership of eMeals, an online menu planning service. Not only does eMeals save me a BUNCH of time, but it also saves our family money by providing accompanying shopping lists (taking advantage of weekly grocery specials) for each week's menu!
Currently, the site only offers meal plans for dinner for families of 2-6, but there has been talk on the eMeals Facebook page of adding other meals to future plans as well — an option I hope they pursue. Regardless, as a mom who would spend a lot of time menu planning and grocery shopping for our family, I found the dinner menus, recipes, and very organized shopping lists to be a great time saver!!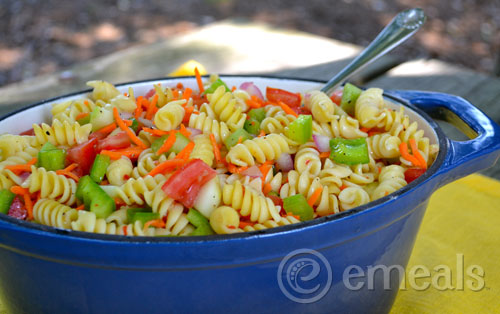 (Image courtesy of eMeals.com)
I was surprised to see the variety of menu plans available — clean eating, natural & organic, vegetarian, low-carb, gluten-free, and many more! Once your subscription is activated, you can login at any time to obtain the menu for the current week, as well as the previous week's menu in .pdf format. There is also an accompanying grocery list that has been priced out at different grocery stores like Whole Foods, Aldi, Wal-Mart, Kroger, Publix, and more. LOVE that!! I also love that most of the recipes can be prepared in less than 30 minutes.
eMeals menu planning service starts at just $5 a month, a GREAT price for saving hours worth of planning time. …and anything that saves me time, so I can spend more quality time with my family..?? Totally awesome. Added bonus — if you subscribe now, they will include a bonus 4th of July celebration menu free! Check it out…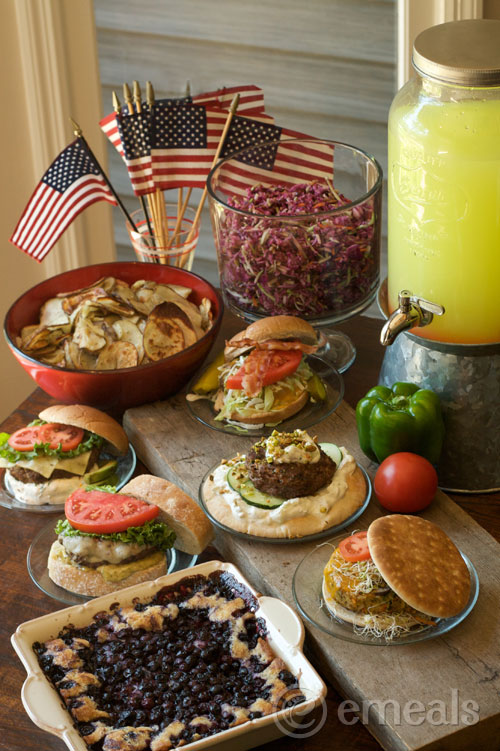 (Image courtesy of eMeals.com)
Yum!!
Also?? An eMeals subscription would make a totally awesome gift for just about anyone. ((hint, hint, Mark…our trial is almost up. Ahem!)) I highly recommend it for those looking for new and delicious recipes to try, busy parents, or those who are actively looking to stick to a budget.
Now the FUN Part — One very lucky Inner Child Fun reader will win a 3 month subscription to the eMeals menu plan of their choice!!! To enter for your chance to win, go to the eMeals website and browse their menu plans, then come back and leave a comment on this post telling us which eMeals menu plan you would most like to try. For a bonus entry, you can follow eMeals on Pinterest — just leave a separate comment to let us know that you're following them there!
This giveaway is open to all US residents over 18 years of age. Giveaway ends Saturday, June 30th @ 6:30pm EST, and winner will be chosen at random. (See Official Giveaway Rules.)
Good luck!!
*Disclosure — I was given a trial membership of the eMeals Clean Eating menu plan for the purposes of this review. This post contains affiliate links, and no compensation was given. All opinions are my own.