For many busy parents, finding quality time to be with their kids can be a big challenge. I asked some of the busiest moms in the blogosphere to share their BEST tips for squeezing in quality time with their kids. You'll notice how many of these busy moms don't just "find" time to spend with their kids, rather they "make" time for them.
Here are 10 creative tips that emerged: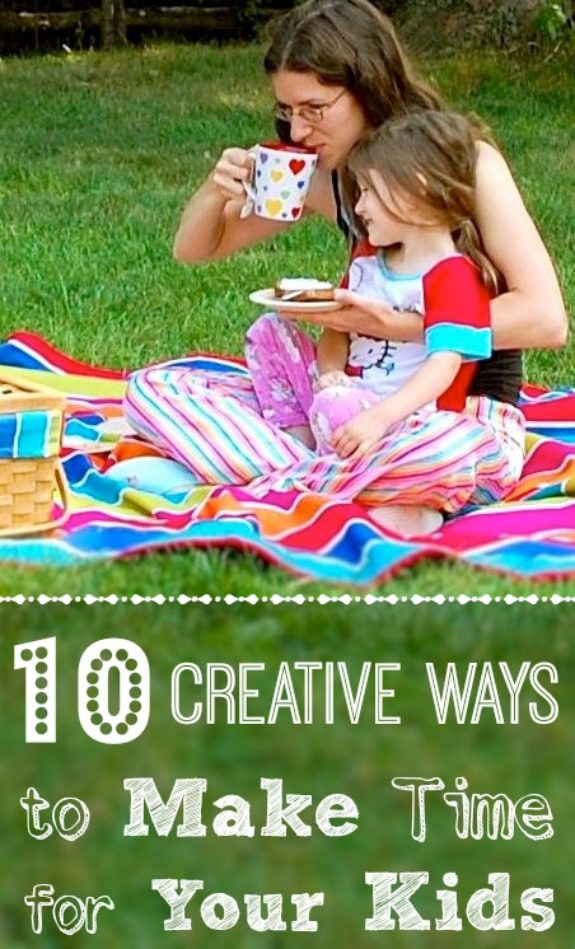 1. Unplug —
"Stop multi-tasking. When the kids arrive home from school I put away all phones and laptops and give the children undivided attention first. When we've re-connected and they head off for some playtime then I might check but trying to keep up with everyone all the time means no-one gets the attention they deserve." — Cathy from Nurture Store
"As my kids grow older they play much more independently. They don't need me to set things up or help out as often. I try to keep our home "unplugged" and open to conversation about what is happening in their lives. I love our little chats." — Jennifer from Kitchen Counter Chronicle
"I gave up my smartphone. It hurt a lot. But, the time and bond-gains have been tremendous." — Patricia from Critters and Crayons
---
2. Steal the Moments —
"I find that often 'the 5 or 10min' before we go anywhere or before bedtime or whenever, can be most precious – quality time isn't about hours and hours of fun, but about 'stolen moments'. Even when we craft sometimes, it literally only takes 10min. I.e. you don't need BAGS of time for quality time" — Maggy from Red Ted Art
"We love to run around and hug each other when the clock chimes on the hour. It is a great way to remember to love on each other briefly throughout the day." — Rachel from Quirky Momma Kids Activities Blog
"My favorite time to connect with my toddler is during diaper changes. I sing songs, act silly, and tickle him. It makes the diaper changing time more enjoyable for the both of us!" — Amanda from Dirt and Boogers
"While we are waiting…( waiting in line, at the Dr. office, at a red light etc) I find some way to play with my little ones. The other day at the Dr. office, we were waiting a while, and my two year old was losing patience. I noticed the floor had a pattern of varying colored tiles, so we played a form of hop scotch until the doctor came. Both my daughter and myself had so much fun. You might as well squeeze in time with the kids while waiting." — Crystal from Growing a Jeweled Rose
---
3. Schedule It In —
"Put quality time on your daily schedule. Our scheduled Mommy-Daughter playtime is right after my daughter comes home from school." — Rebekah from The Golden Gleam
"I decided not to do too much squeezing in time, but to forget about all programs or things to do for a few minutes. That time is for me and Chanel completely dedicated love, hugs and kisses time." — Angelique from Angelique Felix.com
"I try to stop what I'm doing for a few minutes as well. I also try to think of why I should say yes to him. I try to remember that this time is flying by." — Joyce from Dinosaurs and Octopuses [Note: Joyce recently wrote a guest post for Hands on As We Grow titled 10 Simple Ways to Slow Down and Make Your Child's Day]
"When I get home from work I try to spend at least 15 minutes playing a game with them before we start getting dinner organized. (Doesn't always work, and they aren't always interested in playing with me during those 15 minutes if there's friends around to play with instead!)" — Jane from Mama Pea Pod
"The best thing a friend told me was every month on the date of their birthday she does something with that child. Her kids know every 7th and 23th they have mommy night!" — Evie from Playaway Online
"I write 'Play time with Little M (or Big M)' on my to do list. Then I remind myself that play time is an important part of their day… and mine! When I've done it, I can cross it off the list so I feel productive too! Win ~ Win!" — Jillian from A Mom with a Lesson Plan
---
4. Tackle Your "To Do List" WITH Your Kids —
"If you need to grocery shop, find a way to include them. Talk to them about it, make it a game or fun lesson. There are teachable moments all throughout the day. You can get what you need done (i.e. the laundry) while spending time with your child(ren). Plus they might just get a "real life" lesson, which will build self esteem, confidence and independence!" — Marnie from Carrots Are Orange
"We cook together, he loves to cut and stir. We also do laundry, he puts clothes in and out of the dryer. He also likes to vacuum and mop. Takes a bit longer not as well done but he loves it and we spend time together." — Valerie from Glittering Muffins
"My kid is away at school & day care the whole day while I'm at work.. so the squeezing time part is extra precious to us.. I involve her in all household activities that I do – washing, sorting, cleaning.. she is my lil helper and we love it." –Shruti from Mindful Meanderings
---
5. Just Say "Yes" —
"I stop what I'm doing and spend special time with them when they ask me to wherever possible. Often that takes less time than explaining to them why I don't have time, and it makes them more tolerant of the times they have to wait since they understand that I will make time for them when I can." — MaryAnne from Mama Smiles
"Instead of saying 'in five minutes' any time they ask me to do something I say 'for five minutes'" – Charlotte from Make Do and Friend
---
6. Eat Together —
"One important lesson I learned was to turn the tv off at dinnertime. We try to eat together as much as we can (and no it's not possible every night). But, turning off the tv helps us focus on each other instead of all the other things that have our attention throughout the day." — Terri from Creative Family Fun
"Grandpa and I take our grandson to dinner every Thursday night. We love having him all to ourselves for just that little while. But even as a grandparent, we find our grown up daughter still needs time and attention too so I take about an hour everyday to just be with her while she cares for our grandson. I love watching the young parent she has become and she loves having me notice what a great mom she is." — Deborah from Teach Preschool
"We try to eat dinner as a family every night. Thankfully my husband can get home from work early enough to suit the kids' timetable. We never have the tv on at dinner time and use it as a time to chat and listen to music." — Ali from At Home with Ali
---
7. Reconnect During Car Rides —
"Listen to your kids in the car. We've had so many unexpected important conversations as we sit together in the cocoon of our car. Even if your kids are just chatting with each other, just listen to those little voices and enjoy them, because they'll be big kid voices soon enough." — Alissa from Creative with Kids
"Using the car rides as a way to bond with the kids. We sing silly songs, play word games (orally) and talk about important stuff." -Amanda from The Educators' Spin On It
"We have unique things in different parts of our home and car. This way we can pull out things wherever we are and do it together. It feel new because we don't use it all the time. Our window sills have lots of goodies and under the drivers seat." Melitsa from Play Activities
---
8. Have a "Date" Night —
"I like to do a date night with my son every few weeks. We don't do anything super special and nothing expensive, but I make sure to tell him it is our Mommy & Andrew date. He is always sooo excited! I usually let him pick what we do. One time we went and played bocce ball (his rules) and another time we went and rode the quarter rides at the mall. I keep my phone off and focus on him. My daughter goes to bed at 5:30pm, so we also have special projects that we do after she goes to bed each night… or we just cuddle and watched a movie together." — Kristina from Toddler Approved
"I have three children. I try to schedule one night a month (3 nights total) when I spend time with each child individually. I'll get a sitter for the other two, or leave them with hubby, and I'll spend time focused on each child. I think that makes the quality of the time spent better when I am not distracted by the other two." — Kristin from Sense of Wonder
"A couple nights a week my hubby and i have each boy pick out a game they want to play. We each play a game with one of our boys. Sometimes we can all play but they are 3 and 5, it doesn't always work. Other times it is puzzle night." — Evie from Playaway Online
---
9. Make Time Together "On-the-Go" —
"Now that my oldest is in kinder, we seem to spend a lot of our day in the car. On days we're out most of the day, I pack lunches for everyone. That way no matter where we are or what we're doing we can pause for a little picnic – just the 3 or 4 of us. Sometimes we find an awesome spot, sometimes we eat at a bench or in a parking lot. It really doesn't matter where we eat our lunch, just the fact that we're doing it all together. Such a special time for us all to connect, be outdoors and have a little fun together." — Stacy from Kids Stuff World
---
10. Have a Special Bedtime Routine —
"We have 'special time' with our kids every night before bed (all by themselves)." — Kristen from Busy Kids Happy Mom
"Best time of the day is bed time, do take time to relax, talk, and read together a few minutes before bed." — Kristi from Creative Connections for Kids
"The most precious time of all is bedtime.. We snuggle up together and I tell her a story about her! Like how happy I was when she was born.. Or the special meaning of her name.. or how she loved to eat curd as a baby. It makes her feel special about 'us'." — Shruti from Mindful Meanderings
---
A BIG thank you to all of the moms who shared these lovely tips with us! Do you have a tip to share? We would love to hear from you! Leave a comment and share your stories or ideas with us!
---
Free Printable
Want more fun craft ideas and activities??  Sign up for our weekly-ish newsletter (it's free!) and after signing up, you'll be sent a link to a free printable list of 100 Rainy Day Activities for Kids — exclusively for our lovely newsletter subscribers! To sign up, click here.