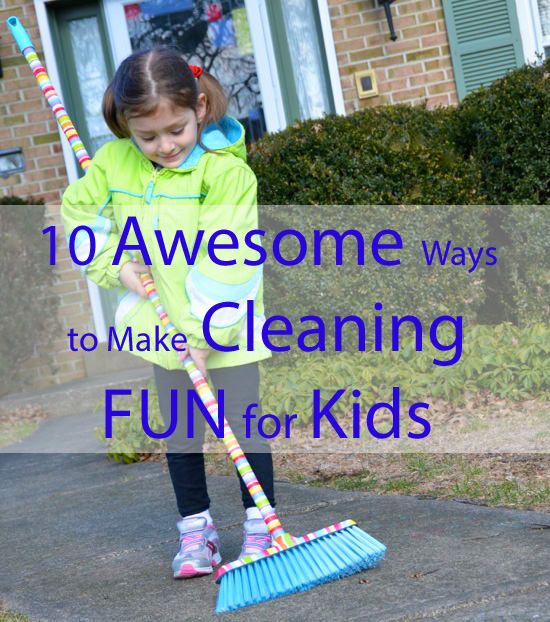 It's time for some Spring cleaning, so why not make it fun?? I asked some of the most creative moms in the blogosphere to share their best tips for keeping the kiddos motivated to help out around the house. These mamas make cleaning time seem like a blast!
Pretend Play —
1. "Dress up like proper maids and butlers, and pretend you are cleaning up after the messy children who live at this house.  'Can you believe they left their crayons all over the floor?  Tut, tut!'  I really think it would be fun to keep aprons, maids' caps, and bow ties in a special place for this purpose." — Katey from Having Fun at Home
2. "I can always get my son (now 6) motivated to help out if I tell him that I'm going to give him a challenge, or sometimes I call it a 'mission'. For example, 'For the first part of this challenge you need to find all your shoes and put them away. The second part you need to make sure all your clothes are in the hamper. And the final part of the challenge you need to wipe down the kitchen table. Let's see how quickly you can complete your challenge.' Then I sing some of "mission impossible" to get him going!" — Laura from PlayDrMom
3. "I get my girls to play 'Cinderella' with me, we wear hankies on our heads and scrub the hardwood on our hands and knees (with vinegar water in little buckets and rags)" — MaryLea from Pink and Green Mama
4. "My girls love to pretend they are filming cleaning commercials. It always makes me smile when they talk about the other leading brands!" — Valerie from Inner Child Fun
Use Kid-Sized Cleaning Tools —
5. "My kids love our Swiffer with the middle sections pulled out so that it is just their height!" — MaryAnne from MamaSmiles
6. "I made a little cleaning caddy for 'C' to carry around the house. Her favorite part is her "dust bunny" (an old gym sock with a bunny drawn on it with Sharpie!)" MaryLea from Pink and Green Mama
7. "Kids can start using a dust buster vacuum as early as 3.5 – this makes moms happy – the kids love it too – it's just their size!" — Kristen from Busy Kids Happy Mom
Make it a Game —
8. "To get them to help tidy their toys, we make it a game – either a 'Let's see how fast we can clean this up' style game, a friendly competition to see how many toys they can each put away in a certain amount of time" — Bernadette from Mom to 2 Posh Lil Divas
9. "We sometimes make cleaning up a game (especially when we're faced with a huge mess in their bedroom or playroom). I might issue a challenge like 'Pick up as many blue things as you can before the timer beeps' and give each kid a color." — Laura from Come Together Kids
10. "We have a kitchen that's open to the living room so one thing that works well for us is that I turn on a timer and 'race' the kids for 10 minutes of cleaning. I try to get my kitchen clean while they pick up the living room. They're still young so I'm sort of shouting directions as I wash dishes like, 'Oh no! I hope they don't get all those blocks picked up! EEk! Eek! They're going to win! All they have to do is get those couch cushions back on the couch!!' Getting goofy and trying to work quickly gives us all a little energy boost." — Alissa from Creative With Kids
For More Ideas to Make Cleaning Fun for Kids See:
10 Fun Ways to Tidy Up the Nursery via Katey at Having Fun at Home
Time-Saving Tip for Cleaning via Valerie at Inner Child Fun
Tips for Cleaning House with Young Children in Tow via Christie from Childhood 101
What do you do to make cleaning fun for your kids? We would love to hear about it! Leave a comment and share your ideas with us!