Last night I thought it would be fun to try something different for dinner, so I picked a new recipe from the Slow Cooker Classics from Around the World cookbook — Chardonnay Pumpkin Sausage Sauce. It was a BIG hit!! I loved it because it was quick, and very easy to make. It's perfect for an Autumn dinner with ingredients like pumpkin, sage, and cinnamon. Also?? Can I tell you how GOOD my house smelled while this was simmering away in the slow cooker??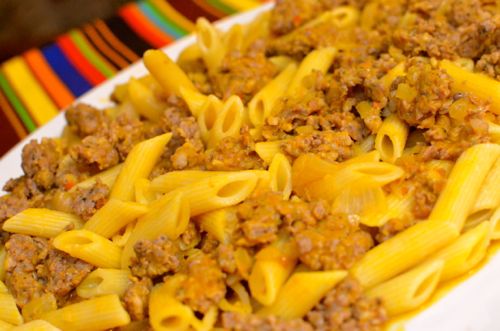 Yummy!!!
Want to make some? ((Of course you do!)) Luckily, I get to share the recipe with you  — Thanks to Seller's Publishing for permission to re-post AND for sponsoring a giveaway of this great cookbook!)
Chardonnay Pumpkin Sausage Sauce
1 pound pork sausage, like Jimmy Dean
1/4 teaspoon crushed red pepper flakes (this was the only thing I omitted, since the girls ate it too.)
1 cup chopped sweet onions, like Vidalia
10 cloves garlic, thinly sliced
1 tablespoon snipped fresh sage
1 (15 ounce) can pumpkin puree
1/2 cup chardonnay wine
1 1/2 cups College Inn White Wine & Herb Culinary Broth (may substitute regular chicken broth)
1/2 teaspoon salt
1/8 teaspoon ground cinnamon
1 tablespoon sugar
Place sausage and red pepper flakes in a large nonstick skillet over medium heat. Cook sausage for 2 minutes, breaking it into small pieces with a wooden spoon. Add onions and garlic and saute, sitrring frequently, for 2 more minutes. Transfer sausage mixture to a 4 quart slow cooker.
Add pumpkin puree, wine, broth, salt, cinnamon, and sugar to slow cooker. Stir until all ingredients are well combined and smooth. Cover slow cooker and cook on low setting for 3 1/2 hours. Serve over pasta or transfer to covreed containers to refrigerate or freeze until needed. Makes 8 cups.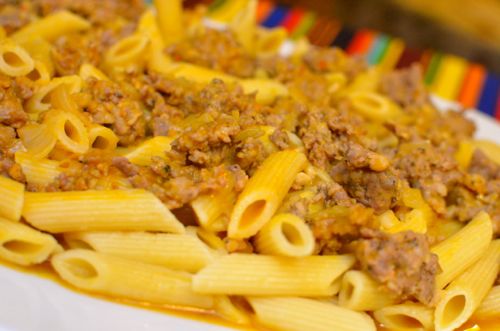 I have to say, this dish tastes even BETTER the next day — perfect for leftovers for the next day's lunch!
There are so many inspiring recipes in this book and in all the books from the Good Food at Home Series. There are four other books in the series:
Quick, Cheap Comfort Food
Leftover Makeovers
Weeknight Desserts
Make-Ahead Meals
I like that all of the Good Food at Home cookbooks are designed for busy families on a budget — a big plus!!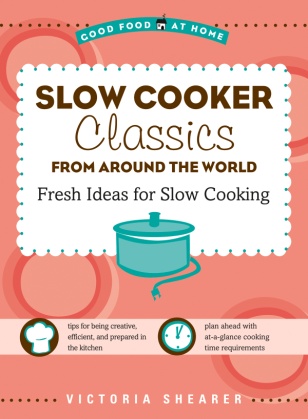 Now the fun part — One lucky Frugal Family Fun Blog reader will win a copy of Slow Cooker Classics from Around the World by Victoria Shearer!! To enter for your chance to win, leave a comment on this post sharing what you love most about Autumn. Giveaway is open to U.S. readers only, and winner will be chosen at random. This giveaway ends Saturday, October 15 @ 6:30pm EST. I just LOVE giveaway, don't you?? For official giveaway rules, click here.
Good luck!!
Giveaway is now closed, and the winner is…. Allison! Congratulations!!! A big thank you to everyone who entered this fun giveaway!! Another great giveaway starts soon!
* Disclosure — I was provided with a copy of each of the cookbooks from the Good Food at Home series to facilitate my review. No other compensation was received and all opinions are my own.