Does your kid love to cook and help out in the kitchen?? Emily sure does, and she's been known to create her own recipes, carry cookbooks around the house with her, and check out several kid cookbooks from the library! Here are her top 5 favorite "must own" cookbooks designed for kids.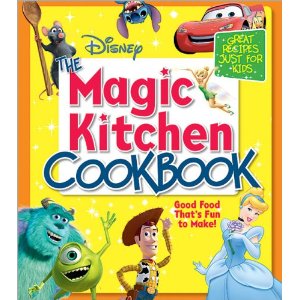 5. Magic Kitchen by Disney — A gift from Mark's parents, Emily made and prepared (with adult supervision) several recipes from this book, and many are healthy and delicious. Disney characters appear throughout the book, and each recipe is combined with step-by-step instructions. Emily could care less about the "characters", but has a much higher interest in the recipes and photos. She can spend hours flipping through the pages! Designed for kids ages 4-8.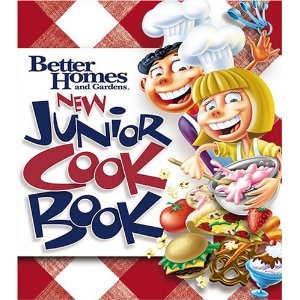 4. The New Junior Cook Book (Better Homes & Gardens Cooking) — A great basic cook book, this one is designed for kids ages 8-12, so it's a good cook book for Emily to grow into, and we liked trying recipes from this cookbook together. Each recipe has step-by-step instructions and a photo, and I found the "cooking basics" section to be the most thorough out of the cook books listed here.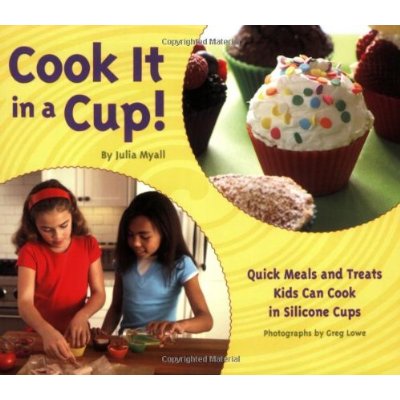 3. Cook It In A Cup by Julia Myall — At first glance, I thought this cookbook was rather "gimicky" because it comes with a set of silicon muffin cups. I was completely wrong, and I'm SO glad this cookbook found its way to Emily's collection! First of all, any recipe that can be made in muffin cups = instant cuteness!! Emily can make almost all of these recipes with very little help on my part. (Ages 4-8)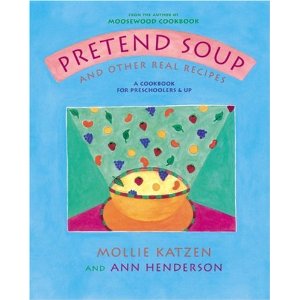 2. Pretend Soup by Mollie Katzen — Buy. This. Cookbook. If you have a preschooler-3rd grader, you MUST add this cookbook to your collection. Emily could not get enough of it! This book has been very well-loved. Each recipe is illustrated with step-by-step instructions and simple wording making it easy for kids to prepare tasty and healthy meals. I cannot say enough wonderful things about this one!! (Preschoolers-3rd Grade)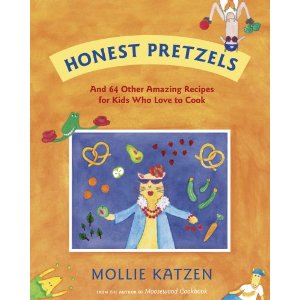 1. Honest Pretzels by Mollie Katzen — Another treasured cookbook in our home is Honest Pretzels. You'll notice this is by the same author as Pretend Soup, Mollie Katzen, and that was no accident. Emily instantly recognized Katzen's style, and this cook book is designed for kids ages 8 and up, so the recipes are just challenging enough, but not too difficult that she can't participate in the process. A real winner!!!
Have a favorite cook book for kids that's not listed here? We're always looking for new ones to try! Leave a comment and share it with us!!