I am SO excited to be hosting this super-fun giveaway from my friends at Stonyfield!!! Did you know that they have NEW organic frozen yogurt novelty bars?? They are dipped in dark chocolate, are cheaper than going out for ice cream, and they're organic! So, no high fructose corn syrup, no synthetic growth hormones, and no persistent pesticides in these delicious treats! Also?? They contain live active yogurt cultures!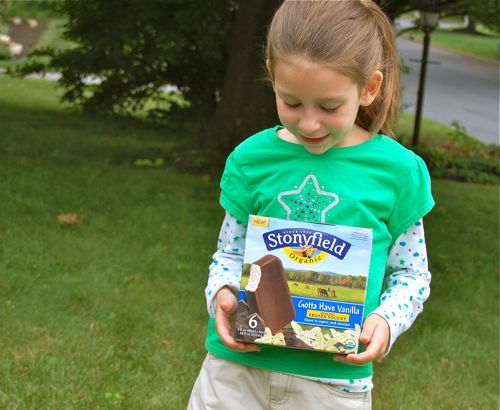 Recently, I visited The Daily Buzz to show some crafts the kiddos can make by reusing the packaging from these. We made bubble wands, kites, and a pretend play stove to keep kids active and busy this Summer. It was SO much FUN!! You can view the clip (sponsored by Stonyfield) here:
Now the fun part — Stonyfield is giving away a prize pack to put together your own yogurt-themed party this Summer!! One very lucky Frugal Family Fun Blog reader will win a $100 gift card for Michael's craft store (think of all the great party supplies you could make with that — reusable banners, tablecloths, napkins, etc.) along with $100 worth of vouchers for FREE 32oz. Stonyfield organic yogurt and FREE Stonyfield organic frozen yogurt novelty bars!!! You'll have plenty of organic yogurt for a make-your-own yogurt parfait party! Giveaway is open to US residents only.
To enter for your chance to win, leave a comment on this post telling us what special occasion you plan to celebrate with your yogurt party! The last day of school, a birthday, a neighborhood block party — anything goes! We'll be celebrating Clara's birthday next weekend, so be sure to come back and see what we did with this same prize pack from Stonyfield!! Winner will be chosen at random and giveaway ends Saturday, June 25th @ 6:30pm EST.
Good luck!!
Giveaway is now closed, and the winner is….. Emily F!! Congratulations and a BIG thank you to everyone who entered!! Join us on Twitter Wednesday, June 29th @ 8pm EST for a fun Stonyfield Twitter Party where we're giving away more fun prizes!! More details here!