We can never seem to have enough placemats around here! These festive placemats can be used for virtually any occasion, but with Memorial Day and 4th of July approaching, I went with red, white, and blue! To make your own, you'll need a roll of vinyl (non-adhesive) shelf liner
, some ribbon and a hole punch — that's it!!
Unroll your shelf liner and cut to size. My roll was 20″ wide, which worked out well since most placemats are around 18″ wide. I used an older placemat as a pattern/guide because I'm too lazy to measure.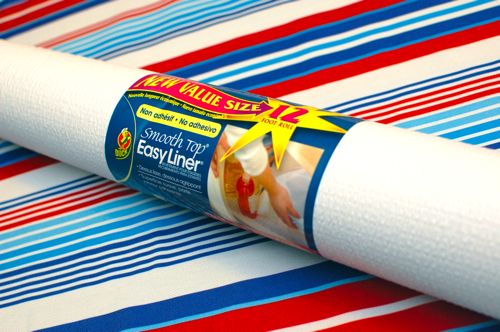 Next, use the hole punch to make evenly-spaced holes around the border of your placemat. Mine were around 2-2 1/2 inches apart, no need to measure, just eyeball it. I promise the Craft Police won't come knocking on your door!
Optional — If you're feeling particularly ambitious, use decorative scissors around the border of your placemat, since decorative scissors are so much fun to use! Yay!!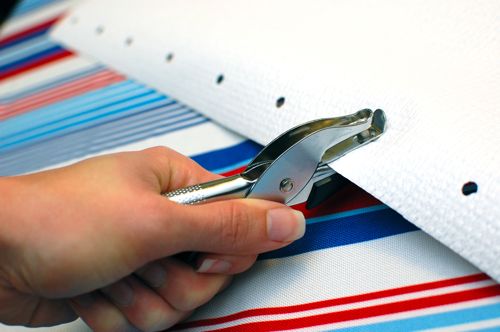 Lastly, thread ribbon of your choice around the border, and tie a bow at one corner. Instant placemat!!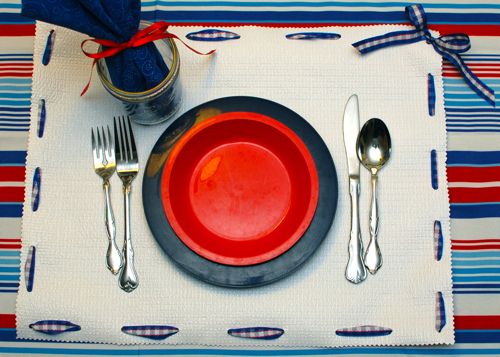 What I love about these placemats is that they can easily be wiped clean, and the ribbon can be changed out to match any color scheme, making them super-versatile!! I love that they can be used over and over again!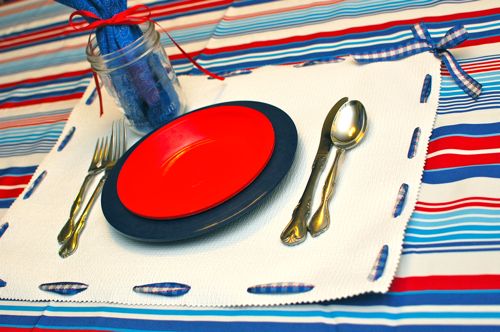 Quick, easy, festive, and frugal!
Have fun!!