A warm welcome to our newest sponsor, Happy Heels by Hannah! Hannah and her sister sew and sell fleece blankets that are designed to keep babies warm in a car seat — brilliant! Frugal Family  Fun Blog readers can get 10% off their order by using coupon code — FFFB10
Sponsors help make this blog possible, so we can continue to post fun, inexpensive crafts and activities for everyone to enjoy — thank you!!
---
Clara will take just about any excuse to play with stickers, so this Valentine craft was a big hit with her! I cut a sheet of paper into a heart, and invited her over to place color coding labels on top. Fun!!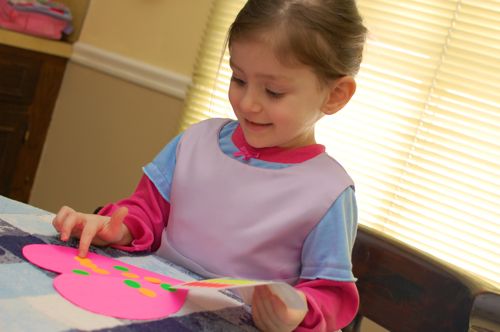 Extra bonus points for crafting in a fluffy purple princess dress — oh my!!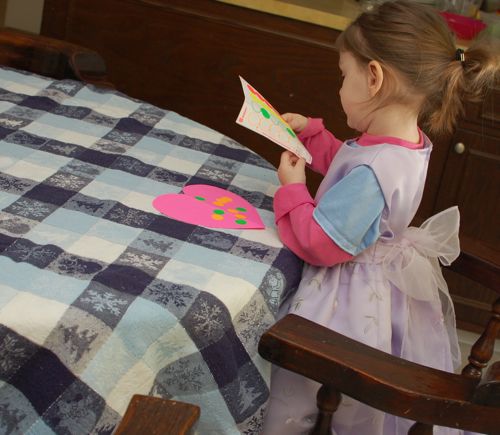 When she had arranged the labels the way she liked, I cut up some of the labels into quarters to make the wrappers for the candies. Super quick and easy!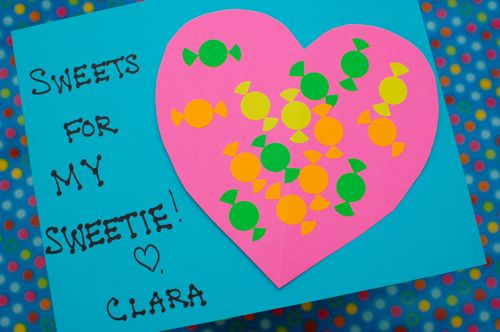 To find color coding labels on the cheap, try the dollar store, or the office supply section at Target. We love to keep some on-hand for lots of last-minute no-mess crafts!
Have fun!!