Update: Be sure to read the comments on this post — lots of great ideas from our awesome readers to keep in mind!!
A new little elf friend just moved into our house, and is causing lots of excitement around here! He made his home just underneath the staircase, and so far has been very shy — not even bothering to answer the door whenever Emily knocks. What a peculiar fellow!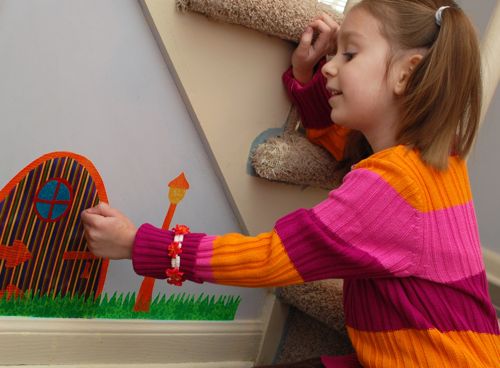 We're still not sure exactly where he came from, since the door appeared while the girls were sleeping last night. I can tell you that it is made from cotton fabric scraps I had laying around, and is adhered to the wall with liquid laundry starch. I used a sponge to apply a light layer of starch, stuck the fabric on, then applied another light layer of starch over top, and wiped up any drips with the sponge — a wonderful tip left in the comments section of this post by a kind reader (thank you, Kelly!).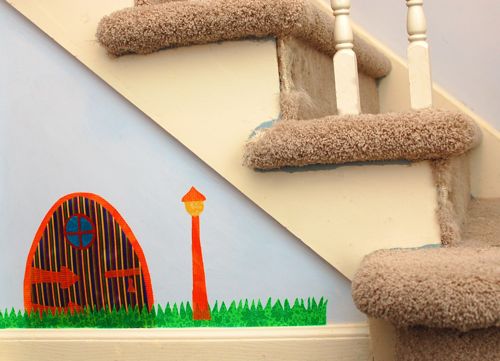 I tested a small decal in a conspicuous place on the wall first, and it appears that it works quite well on painted walls that are relatively smooth. Once the starch is dry, the fabric adheres well, and you can peel it off to remove it without leaving any marks on the walls. Test it with a small piece first, to be sure!
I caught Emily trying to listen in…. so cute!! Later, I found her reading to the elf, since she was convinced he could hear her through the door.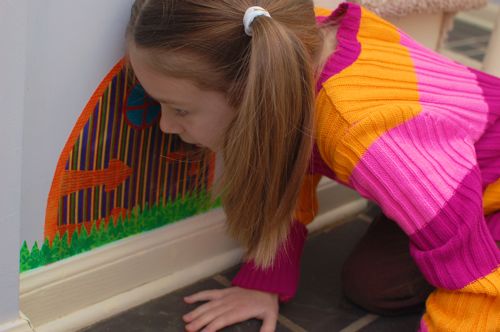 You can find liquid laundry starch in the detergent section at Wal-Mart for around $1.50 for a large 2 quart bottle. We've used it for other crafts like this paper marbling project, and it is great for stretching tempera paints too!
Have fun!!