Moving on with the countdown of the top 10 posts of 2010. This was the year Emily began public school, and thus began our adventures with packed lunches! We had lots of fun learning tips and tricks to pack fun lunches on a budget, and later I was interviewed by Rodale to elaborate a bit more on some of these ideas. Coming in at number 7…. Adventures in Bento!
---
School has officially begun for Emily, which means lots of homemade packed lunches! I know how challenging it can be to pack a healthy, quick, and budget-friendly lunch, so I thought I would share some of the lunches and snacks Emily enjoyed this week.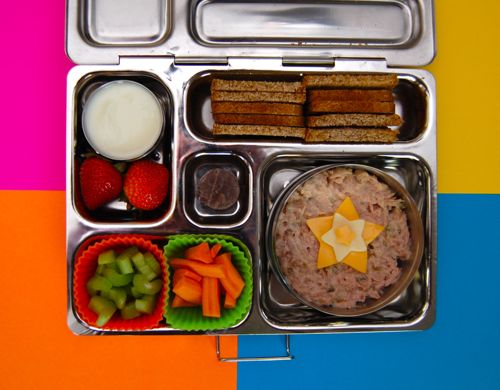 Clockwise from Top Left: Stonyfield Organic Yogurt, Whole Wheat Cocktail Bread,
Tuna Salad with Cheese Stars, Organic Carrot and Celery Bites,
Organic Strawberries, Small Cookie.
Both of us love her new PlanetBox for packing lunches. Everything stays neatly in its place, and the box itself is very well-made. One of the key requirements we have for lunch box containers is that they MUST be easy to open, and this one is a synch! It is pricey, so I'm hoping it lasts for a very long time ((fingers crossed)).
And for snack….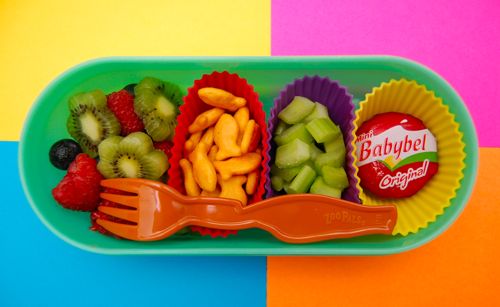 From Left to Right: Organic Blueberries, Raspberries, and Kiwi,
Goldfish Crackers, Organic Celery, Mini Babybel Cheese
Her class has lunch very early in the day, so they have a few minutes for snack time in the afternoon. She ate some of it at school, and then finished the rest when she returned home. Also, we wash and reuse the plastic forks, since I try to pack her lunches to be relatively waste-free.
The next day she made a specific request to pack leftovers from dinner the night before for her lunch — a splendid idea!!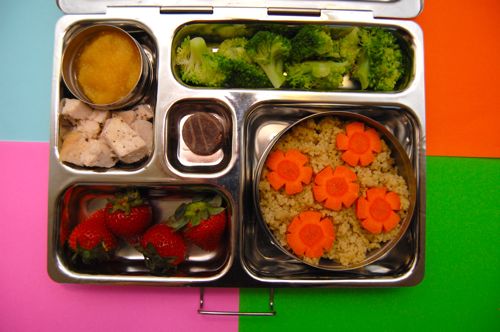 Clockwise from Top Left: Organic Apple Sauce, Broccoli,
Cous Cous with Carrot Flowers,
Organic Strawberries, Chicken Bites, Small Cookie
Then we mixed things up a bit with a whole wheat mini-bagel sandwich!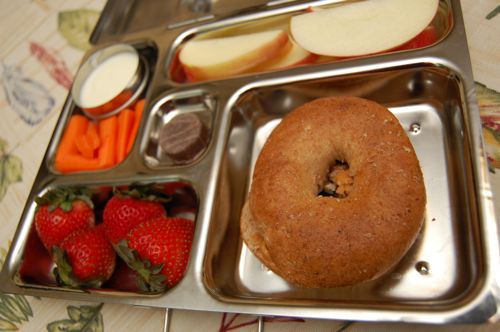 Clockwise from Top Left: Stonyfield Organic Yogurt, Organic Apples,
Peanut Butter, Butter, and
Cinnamon Whole Wheat Mini-Bagel Sandwich,
Organic Strawberries, Organic Carrots, Small Cookie
The apple slices were coated with a little lemon juice to keep them from turning brown. The only thing that she didn't eat were the leaves on the strawberries!
Are you getting hungry yet?????
This next lunch was a big hit too…..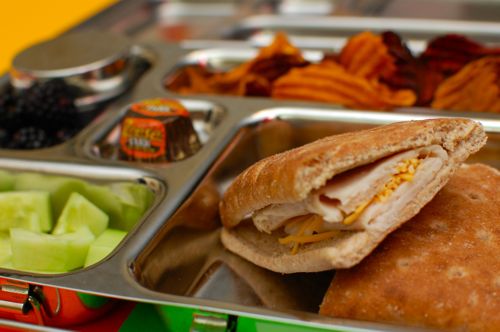 Clockwise from Top Left: Stonyfield Organic Yogurt with Honey,
Sweet Potato and Beet Chips,
Turkey and Cheese on Whole Wheat Sandwich Thins,
Organic Cucumber, Organic Blackberries, Mini Peanut Butter Cup
I think she liked the whole grain sandwich thins a LOT!
Here's another fun snack….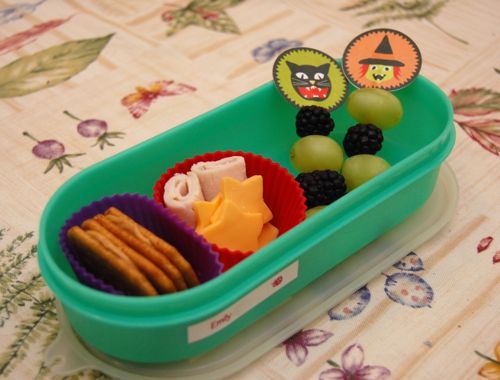 Left to Right: Whole Grain Crackers with Peanut Butter,
Cheese Stars with Turkey Roll Ups,
Organic Blackberry and Grape Mini Fruit Kabobs
This Tupperware container was inherited from my grandmother!! Check out the retro turquoise! *glee* I love how nicely it holds the silicone muffin cups, and it's the perfect size for Emily's lunch sack.
One day for a hot lunch, she took some soup in an insulated thermos along with some fresh fruit and crackers. The soup was completely gone, and most of the other container was eaten as well, and she finished the little bit that was leftover when she returned home.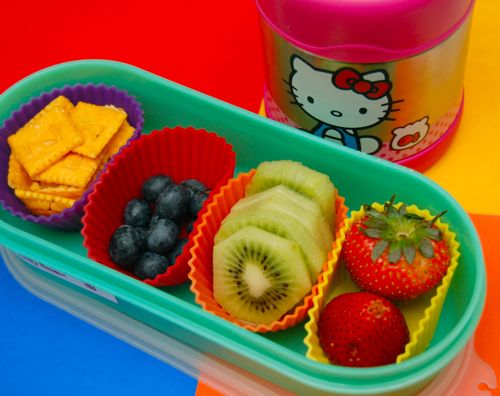 Left to Right: Cheese Crackers, Organic Blueberries, Kiwi, and Strawberries
That's it for this week!
In case you missed it,  you can read more about how I make these packed lunches affordable by reading our Bento on a Budget post. Coming up next week, we'll share some tips for saving money on organic food so be sure to check back again soon!
I linked this post to:
Get Your Craft On @ Today's Creative Blog
Works for Me Wednesday @ We Are THAT Family