WE BAKED!! (…sort of.)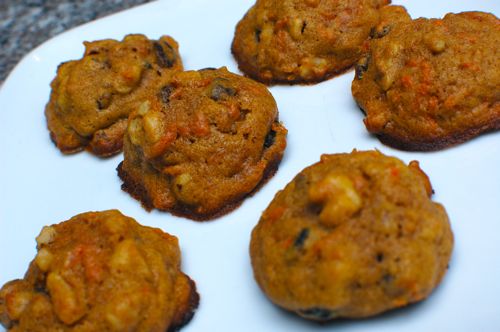 Baking is not my thing. At all. Sewing? Yes. Cooking? You bet! Basket-weaving? Why not?? But baking?? That's where I draw the line. Whenever I bake anything, it's more of a threat than a blessing. Just ask Mark about Pumpkin Pie Failure 2004. It. Was. Awful.
When Stonyfield asked me to try some holiday baking with their delicious yogurt, I knew I was going to have to call in the expert — my lovely neighbor and friend, Yelena!!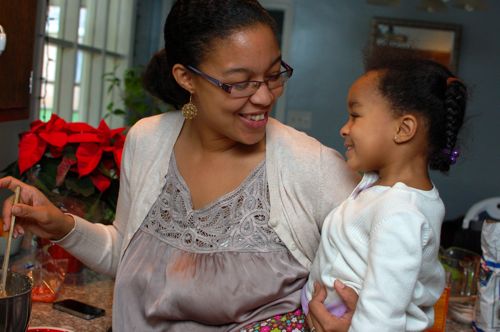 Yelena is a graduate of the Culinary Institute of America, author of the blog Chefin' w/Baby on the Hip, and get this — she can bake!! With three small children ages 5 and under!! And one hand tied behind her back!! Blindfolded!!! Okay, maybe I exaggerate just a little, but she can bake up a mean batch of cookies. We got together to whip up a batch of carrot cake cookies, and when I say "we", I really mean "she did the baking and I observed (and taste-tested!)". We had so much fun, and the cookies were sooooooo yummy!!!! I just had to share the recipe — perfect for a holiday cookie swap!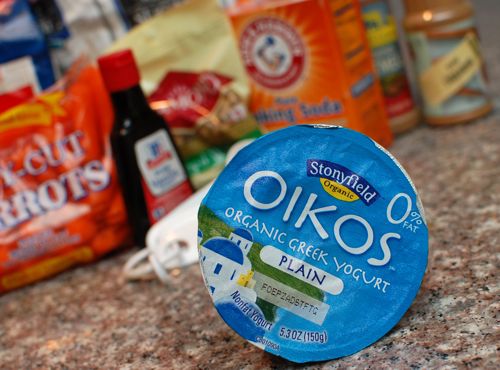 Carrot Cake Cookies
1 1/8 cup all purpose flour
1 tsp cinnamon
1/2 tsp baking soda
1/2 tsp salt
1 stick butter (room temp)
1/3 cup brown sugar
1/3 cup granulated sugar
1/4 cup yogurt — we used Stonyfield Oikos plain
1 tsp real vanilla extract
1 cup shredded carrot
1 cup raisins
1 cup walnuts
Preheat oven to 375 degrees.
Mix dry ingredients set aside.
Cream butter, sugars( white and brown), yogurt and vanilla together.
Add carrots, raisins, and walnuts. Mix till well combined.
Add dry ingredients mix till well incorporated.
On a greased cookie sheet drop tablespoons of cookie batter 11/2 inches apart.
Bake for 8-10 minutes.
Cool on a cookie rack. Enjoy!
Nom, nom, nom!!! A simple, but very helpful baking tip from Yelena — pre-measure ingredients while the kiddos are napping or during quiet time. The yogurt made the cookies light and fluffy!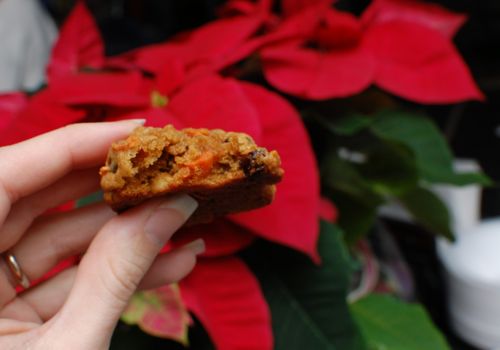 Now the fun part — One lucky reader will win a super-fun prize pack courtesy of Stonyfield!! Giveaway is open to all US residents. Prize pack contains three free Oikos multipack coupons, three free 16 oz Oikos coupons, three free Stonyfield quart coupons, two sets of Stonyfield/Oikos recipes, and an Oikos spatula!!
To enter for your chance to win, leave a comment on this post telling me what you love most about baking! Be sure to include your email address. Giveaway ends Thursday, December 9th @ midnight EST, and winner will be contacted via email.
Good luck!!