Thanks to this post when Clara and I made up some goody bags to give to some of our friends who come over for play dates, we had many inquiries asking what exactly went into them…. Here's a little peek!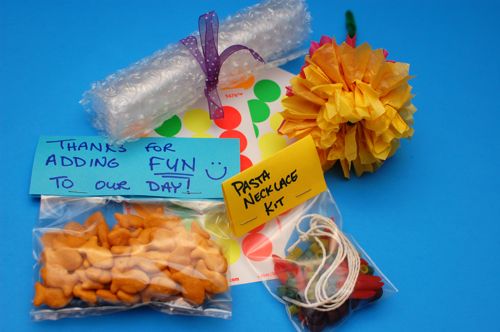 Clockwise from top-left:
1. A small piece of unpopped bubble wrap rolled up and tied with some pretty ribbon.
2. Color coding labels!! We adore these!
3. A colorful tissue paper flower
4. Pasta necklace kit — everything you need to make your own!
5. Small bag of Goldfish crackers
And for the mommies….. you didn't think we would let you go home empty-handed, did you?? Heavens, no!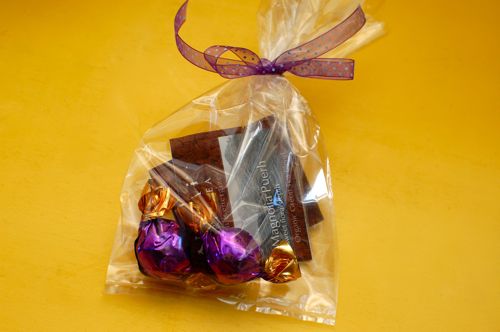 Nothing like some Godiva dark chocolate truffles and a few tea bags of Numi organic tea to make your day a whole lot better! (These are some of my absolute favorite things!!)
Now the fun part — We're giving away  3 fun goody bags just like these! So…. let's have a virtual play date!! Leave a comment telling us about your favorite play date activity, and you'll be entered  for a chance to win. Giveaway is open to all US residents and ends Saturday, November 13th @ 6:30pm EST. Winners will be chosen by Mark, Emily, and me!
Good luck!!