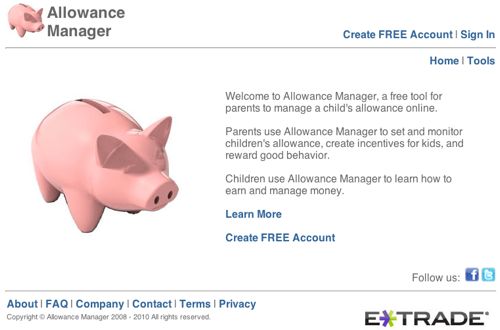 Mark and I have discussed starting an allowance for Emily, and we're still in the process of experimenting with exactly what process will work best for us. However, there is a great new site that helps manage your child(ren)'s allowance — allowancemanager.com which I was recently asked to review.
Giving Emily an allowance would help her to understand the value of money, reward good behavior, encourage her to complete her chores each week, and introduce her to the concept of saving (among other things). I was intrigued by what tools allowancemanager.com had to offer.
You can create an account for free on allowancemanager.com and the tools are simple and easy to use. Create separate accounts for each child, and enter their weekly allowance rates. You can easily add entries for gifts, donations, cash withdrawals, or investments to keep your child's account up to date. I personally love the printable chore chart that is available in the Tools section. I look forward to using the site more, and I think Emily will enjoy logging in once in awhile to check the progress on her account!
Since we're relatively new to the world of allowances, I would love to hear your thoughts on this — How do you handle allowances? What systems do you use? Have you found a system that works well for your family? Leave a comment on this post and share your stories with us!
Disclosure — In exchange for posting this review, I was given a $20 Target giftcard (Yay, Target!!)