It's time for another fun bento post — this time with tips to help save money on organics! Here are some of the tasty lunches Emily enjoyed this week.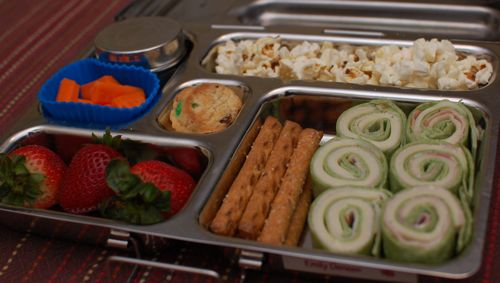 Clockwise from Top Left: ranch dressing, air-popped popcorn, turkey pinwheels made with
spinach tortilla, organic pretzels (had several coupons, so I stocked up – yay!),
organic strawberries, organic carrots, mini cookie.
I also had great success packing a bento lunch using a container other than a PlanetBox…..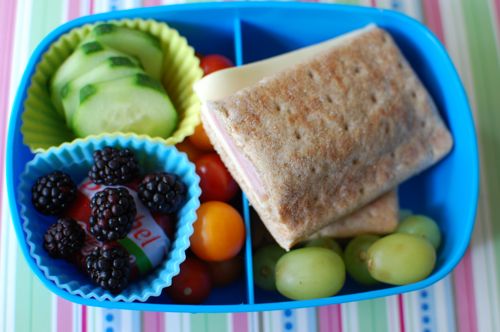 Clockwise from Top Left: cucumber, turkey and cheese sandwich thins,
organic grapes, garden-grown cherry tomatoes, organic blackberries, Babel cheese
This container is made by Savvy Sassy and can be found in the baby section at Target for around $5. It is BPA free, and includes two other smaller containers (not shown) which nest inside with their own tight-fitting lids. I ended up using it to pack my own snack (which Clara helped herself to) when I took her to the playground last week.
Cantaloupe was on sale this week too! So I added some to our lunches a few times during the week….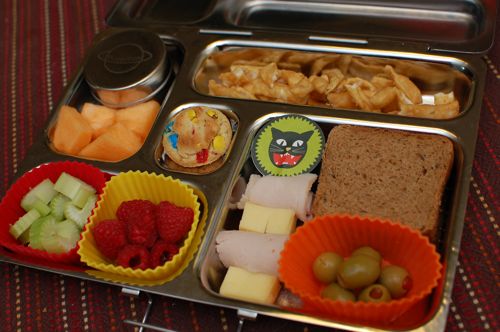 Clockwise from Top Left: Stonyfield Organic Yogurt (bought a 32oz. and printed out a coupon here),
chinese noodles, whole wheat cocktail bread, olives, turkey and cheese mini-kabob,
organic raspberries, organic celery, cantaloupe.
Just for fun, I focused on turning a hard-boiled egg into a CUTE chick for this lunch. Emily adored it, but it's not something I plan to do all the time. I have to admit, it was a lot of fun to make it, though!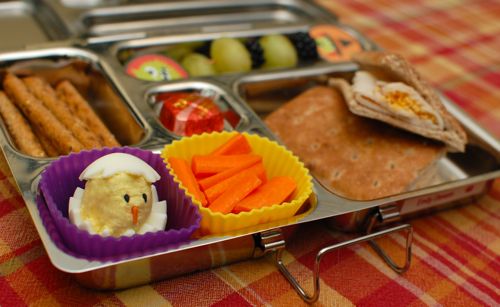 Clockwise from Top Left: organic pretzels, organic grapes and blackberries mini-kabobs,
turkey and cheese sandwich thins, organic carrots,
organic hard-boiled egg chick (isn't it adorable???)
This next lunch was a big hit too! I buy Goldfish crackers in bulk — much cheaper that way.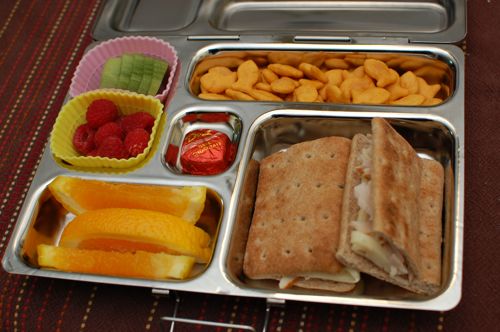 Clockwise from Top Left: kiwi, goldfish crackers, turkey and cheese sandwich thins,
organic orange slices, organic raspberries, mini chocolate.
It was a fun (and healthy) week!
Here are some quick tips to save money on organics:
1. Buy in Bulk — Avoid single-serve convenience packages and opt for bulk items instead. In many cases, buying in bulk is about half the price!
2. Match Coupons with Sales — A great organic coupon site to help with this is Organic Deals and Coupons. Susan does a great job matching sales with coupons and lists lots of sources for printable organic coupons too. I almost always check out the latest listings before heading to the store.
3. Prioritize Organics — Become familiar with the Dirty Dozen list and also the Clean Fifteen. These lists are updated every year, and can help you prioritize organics for foods that contain the most pesticides.
4. A few affordable organics that pack well for lunches: Apples, Carrots, Oranges, Grapes, Hard-boiled Eggs, and Popcorn. I try to incorporate at least one of these in every lunch since they are healthy, inexpensive, and fun to eat!
5. Don't Waste Food — It sounds simple, but Emily's lunch is packed with an ice pack mainly to avoid wasting food. Whatever is not eaten at school (usually not much is leftover), is placed back in the lunch tote and she will eat it as soon as she gets home.
That's it for this week!! Coming up next week….. we'll share some time-saving tips for packing lunches. Yay!!
I added this post to:
Made by You Mondays at Skip to My Lou