Faced with yet another hot afternoon, we made up some comets, dipped them in a bucket of water, and the girls had a blast hurling them at each other until they were soaked!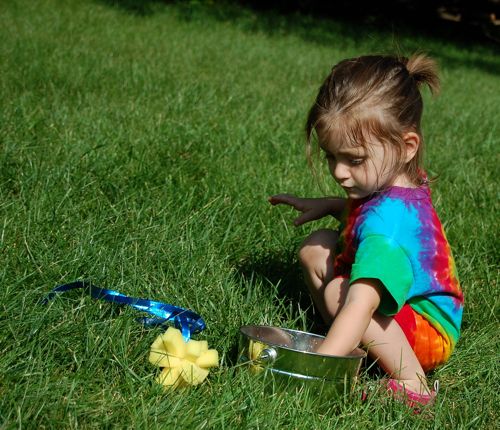 It started off innocently enough with Emily tossing a comet at Clara…..
….but Clara wasn't about to take that sitting down. Once she got a little practice, she was throwing at Emily like a pro!
Check out how she pelted her with this shot!!
All I did was cut up an ordinary household sponge ($1 for a pack of 12) into strips and then pulled a zip-tie snug around the middle. I added some ribbon for extra flair and to make it a little easier for the girls to catch the comets. We had so much fun with these!!
We played catch….
… and "dodge the comet"….
….and this one went right over Emily's head!
A fun, easy, and frugal way to keep cool this Summer!!
I added this post to: