We spent some time with our sleeves rolled up and our hands in very warm soapy water to make these beautiful felted ornaments. I found the process to be calming, and we were both quite pleased with the results!
To make your own felted ornaments, you will need some wool roving and a dish of very warm soapy water. Dip a small amount of wool roving into the water and begin rolling it into a ball with the palms of your hands.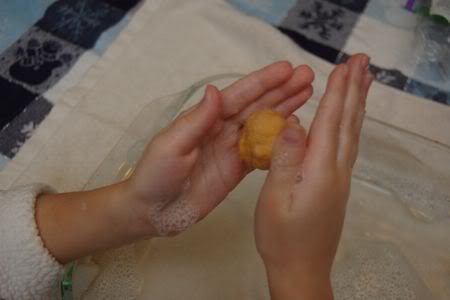 To make a larger ornament, just add a little more roving bit by bit until you have the size you want.
Allow to dry, and add a string. I tried to convince Emily to try some with different colors, but she wanted to make her ornaments all solid colors today. I love that they are not breakable!!
We're also keeping some of these just as balls for Clara to play with. To test if the ball is large enough to not be a choking hazard, see if it fits through a toilet paper tube. If it does, it is too small, so keep adding wool roving until it no longer fits in the tube.
We played with the felt and warm water until our fingers were all wrinkly! So much fun!!
[Update: I've received several emails asking where to find wool roving. I found it at JoAnn's, and it is usually near the yarn section. It looks a bit like cotton candy when it's dry. You can also purchase wool roving at Amazon. See below.]