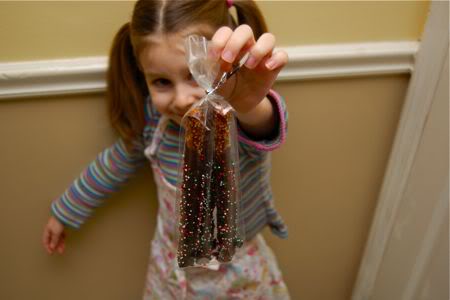 The girls and I did some holiday "baking" this afternoon. These chocolate covered pretzels were so much fun to make! We made several bags of them for neighbors, friends, and family. To make your own, you will need:
One 12oz. bag of semi-sweet chocolate chips
2 Tbsp. shortening
Pretzel Rods
Melt shortening and some of the chocolate chips in a double broiler. Stirring occasionally.
When the chips start to melt, add more, and continue to stir, until the entire package is melted.
Both of the girls really got into the sprinkle-fest! Place the baking sheet in the fridge until the chocolate has completely hardened. Package them up! We used pretzel bags (found at A.C. Moore), and could fit 3 pretzels to a bag. (See first photo.)
So much fun!