I am going to let you in on a little secret — (some of you already know this, but…) from time to time we enjoy picking out some of our very special readers, contacting them via email to ask for shipping info, and then mailing out surprise packages. Just because!
Sometimes I take the girls to the thrift shop and we'll find little vintage treasures, magazines or books, kitchen towels… that sort of thing. If I know it is something a particular reader would truly appreciate, we set it aside. Then we pack it all up and make a special trip to the post office.
It is so much fun, and we never
ever
expected to get anything back in return. Yet, that is precisely what happened a few days ago when this awesome package arrived from
Val in the Rose Garden
. What a wonderful surprise!!
Inside was a beautiful card, a felted wool hat Val made (which Clara seemed to claim and refuses to take off), a Real Simple Family magazine (I love that!), a child's apron and cookie cutter set from… China (?) Emily LOVES them…. and wait… there was more!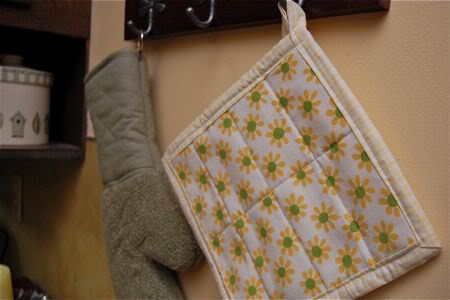 This pretty potholder Val made from vintage bed sheets! I love how it goes so well in our kitchen! Val also included lots of great vintage fabrics that I have big plans for…. maybe some bread bags? Oh, that would be so much fun!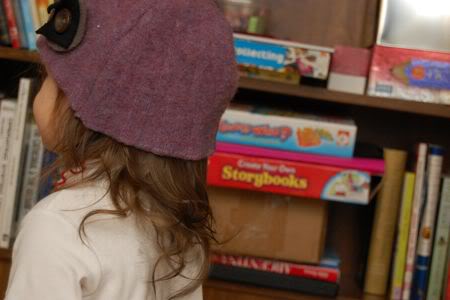 Thank you, Val!!
If you haven't been to Val's little corner of the internet over at
Collecting the Moments… One by One
, definitely go check it out. I've been calling her site "the best kept secret on the internet". It is an absolute treasure trove!
Now the fun part — we are just itching to bless another lucky reader with a package, but this one will be a complete surprise! To enter for your chance to win this super-fun giveaway, leave a comment on this post telling us about the best surprise you've ever received in the mail. Winner will be chosen by…. Emily!! And contacted via email for shipping info. This giveaway ends Tuesday, December 1st @ 6:30 PM EST.
Good luck!!!