When I set out to do this project, I thought it would take me about a month to complete, or at the very least, a few weeks. I was wrong!
Thanks to this wonderful (and free!) tutorial over at UK Lass in the US
, I had almost the entire doll house complete before the girls even woke up this morning! Of course, it did help that the girls are good sleepers. Yay for good sleepers!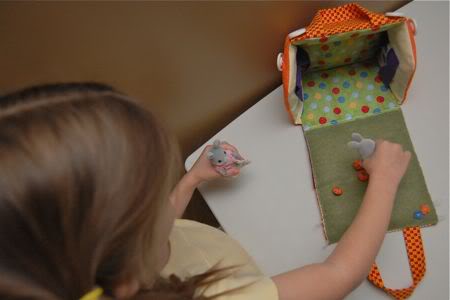 It was intended to be a holiday gift for Emily, but… see… that's the thing about crafting gifts. I get so wrapped up in my little craft fantasies that I can
never
wait until the intended occasion, and this was no exception. Actually, Emily started playing with it while I was still stitching the flowers on. She really couldn't help herself!
In the end, I'm glad I let her in on this little secret. She helped pick out the color for the curtains and door, and came up with all sorts of other little details that I would have never thought about.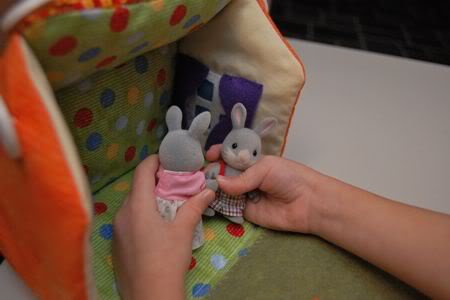 It's made with felt, some buttons (inherited from my grandmother), plastic canvas, thin hair elastics, batting, an old bed sheet, an old tablecloth, and some fabric scraps.
Super
frugal, and a lot of love went into it. It's sturdy, yet lightweight, and it's the perfect size for her Calico Critters….
and other small toys that seem to reproduce, multiply by the dozen, and kill my feet every time I step on them.
Now she has the perfect on-the-go dollhouse!
Of course, as UK Lass points out in
this post
, these dollhouses can be made into virtually any structure. I am loving the idea of one of these as a barn! Oh, I should probably mention…. they are a bit addicting to make. Don't say I didn't warn you.