I knitted this hat for Clara from 1 skein of Lion Brand Nature's Choice organic cotton yarn purchased at JoAnn with a 50% off black Friday coupon for just $3.25. Bargain! The hat was a quick and easy knit, and is the perfect weekend knitting project! I even had enough yarn leftover to crochet a small dishcloth. The pattern for the hat is below… and it's free!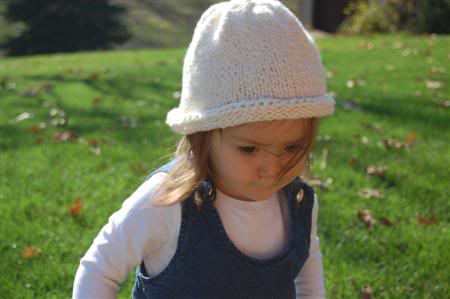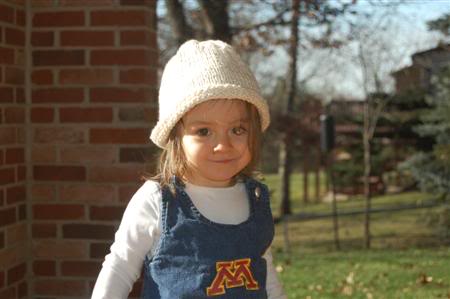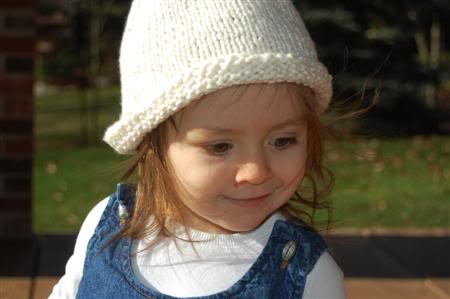 Free Toddler's Hat Pattern by Valerie @ Frugal Family Fun Blog!!
Finished hat is size 2T.
Materials:
US size 9 knitting needles (5.5 mm)
1 skein Lion Brand Nature's Choice Organic Cotton Yarn
1 yarn needle
Gauge
: 16sts, 21 rows = 4″ x 4″ square
Directions:
Cast on 64 stitches.
Knit 5 rows.
* Purl next row. Knit next row. Repeat from * until hat measures 9 inches in length. End on a purl row.
* Knit 6, knit 2 together. Repeat from * to end of row.
* Purl 3, purl 3 together. Repeat from * to end of row. Do not cast off.
Leaving a long yarn allowance, cut yarn and thread the end through a yarn needle. Thread yarn through remaining stitches on knitting needle. Remove knitting needle and pull tightly. Sew side seam and finish off.
Clara has been wearing her new hat indoors and out! Next on the needles…. a hat for Emily!