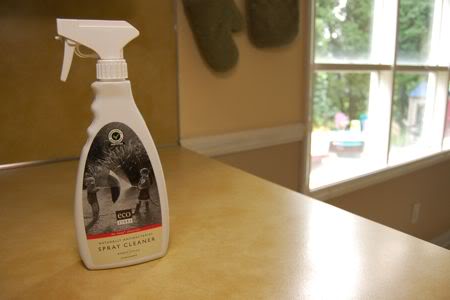 I use many different kinds of Earth-friendly cleaning products in our household, so when EcoStore USA contacted me to do a review and giveaway I was very intrigued. EcoStore USA is an e-commerce site that sells plant-based, non-toxic household cleaning, baby, and personal care items. I chose to review the Naturally Antibacterial Spray Cleaner and the Baby Shampoo — two products I am particularly picky about!
First, the spray cleaner… Two things I noticed right away: 1. it has a light lemon scent (lovely) and 2. a little bit goes a long way. I put this cleaner to the test by tackling the crusty crud that lives under Clara's booster seat. You know, the spot that seems to regenerate almost overnight with grime and enough crumbs to feed a small flock of birds? Yeah, that spot.
Here's the before photo:
So, Earth-friendly AND it cleans very well using very little spray…. I am impressed!
Next up was the baby shampoo (seen here)…
Ways to enter:
Easy, right??
You may also be interested to know that EcoStore USA is featuring a BOGO back-to-school promotion on orders of $50 or more, and shipping is always free on orders over $25!!
Winner will be chosen by random.org and giveaway ends Wednesday, August 19th @ 6:30pm EST. Good luck!!