If there is one thing our entire family can agree on, it's our love of BACON! In fact, bacon played a crucial role during the courting phase of my relationship with Mark. At the time, I was a strict vegetarian, but I kept packages of bacon in the fridge of my dorm room as "Mark bait". It worked!!
Emily and Clara have also tested bacon-positive.
The idea for these bacon bowls came from an old post on
Not Martha
, however my method is slightly different from hers. This combines basket-weaving and bacon… it's like crafting with food! (er… make that a food-like substance.) It's no surprise that these bacon bowls were a big hit in our household!
Here are some ideas for bacon bowls:
Fill with lettuce, tomato, and ranch dressing. The lettuce and tomato make this a healthy snack. (Ahem.)
Or fill with scrambled eggs for breakfast! Wouldn't this be a unique appetizer for a brunch?
To make your own bacon bowls, you will need a package of bacon, and small microwave safe dish, kitchen scissors, and a glass baby food jar.
Clean the baby food jar very thoroughly and be sure to remove all adhesive from the label. Place the baby food jar upside down on the microwave safe dish.
Lay two pieces of bacon to make an "X" over the bottom of the baby food jar as shown. Use kitchen scissors to trim the ends.
Next, weave slices of bacon around the ends. Are you getting hungry yet?? Wait for it… wait for it…. it gets better!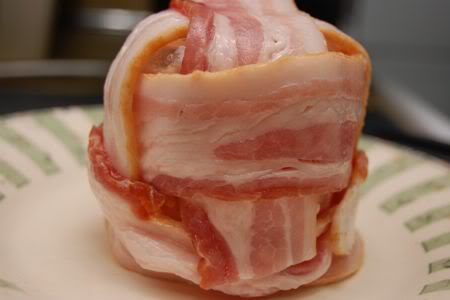 Cover the entire thing with a wet paper towel, and place in the microwave for about 4 minutes and 30 seconds total, checking after every minute. Microwave times vary, and ours is DIEING a slow and painful death, so yours may cook up much faster.
Set aside and allow to cool. Carefully pull the bacon bowl from the baby food jar, and fill with salad or eggs.
Time for the taste test…..