Disclosure: We are a participant in the Amazon Services LLC Associates Program, an affiliate advertising program designed to provide a means for us to earn fees by linking to Amazon.com and affiliated sites.
Emily has been asking me since yesterday if we could please make this craft found in the lovely book Crafts From Your Favorite Fairy Tales by Kathy Ross. This was one of the first books Emily borrowed from the library with her new library card! When she plays with toys like this, she does this funny falsetto voice to go along with them. I was in the kitchen when I heard this teeny tiny high-pitched voice say, "Emily, can you pull my hair back into the tower? It's going to rain, and I don't want it to get all wet!".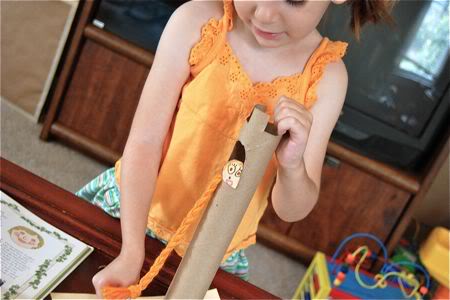 To make your own Rapunzel tower, you will need: yarn for hair, string, a paper towel roll, construction paper for the face, scissors, crayons, and a bit of glue.
Cut the top of the paper towel roll as shown, and cut out a window near the top of the roll too.
While I was cutting the paper towel roll, Emily got to work on drawing a face for Rapunzel.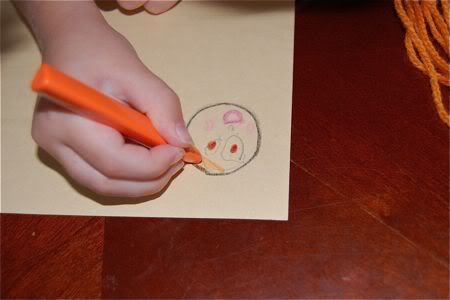 We cut out the face, and glued it to the inside bottom and side of the window. I braided some yarn for hair, and looped a piece of string around the top of the braid as shown. Run the string through the inside of the window and down to the bottom of the roll. Tie the bottom of the string to the bottom of the braid.
Now… play! Rapunzel….. Rapunzel, let down your hair!!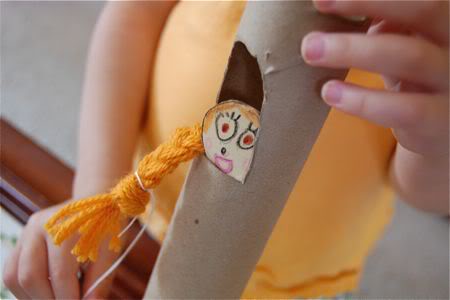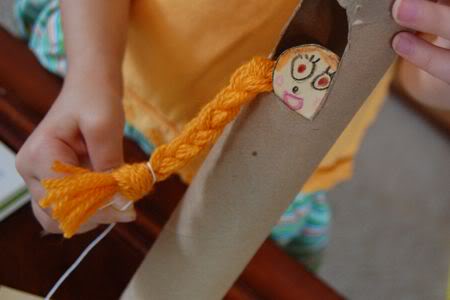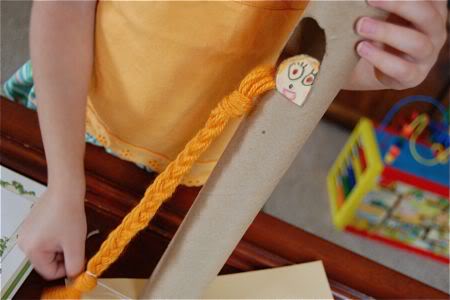 I love crafts that go along with stories like this, and since it uses recyclables…. even better! The fact that she enjoyed playing with Rapunzel long after the craft was completed, made this just about everything a craft project should be!