In the days before we were inundated with rain, Emily asked if we could go on a nature hike. Normally, I wouldn't hesitate to say yes, but Clara is at that awkward stage of not really walking, but a little too big for a sling. This nature hike would have to involve a stroller. Strollers and nature hikes don't generally mix too well.
That is, until I remembered about this…
Tucked back at the Wildlands Conservancy is this fabulous, stroller/wheelchair friendly boardwalk-like pathway. I had completely forgotten about it until now, and I plan to visit several more times this summer. I'll be damned if I let a stroller keep me from enjoying a nature hike!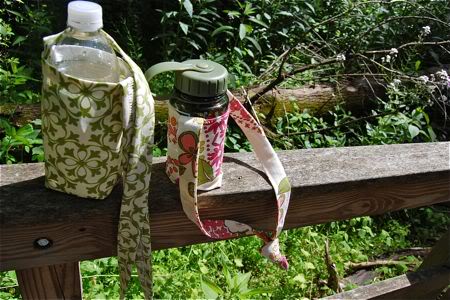 Aren't these water bottle holders the cutest? I made one for Emily, and I loved it so much I just had to make one for myself too. I'm not a huge fan of the plastic water bottles, but I think I might have left my beautiful Sigg bottle at a playground. That was a sad, sad day, my friends. This pretty water bottle holder almost makes up for my lost Sigg.
Almost
. I just followed the instructions
here
. Very easy and straight-forward. Oh, and I made one for my mom too!
I love how something as simple as time spent outdoors can make her so happy.