Clara has turned one year old! We invited some family members over for a daisy-themed birthday luncheon this afternoon. It was a great success, and it didn't break the bank! The key to planning a party on a budget lies in the little details. These tiny touches do not have to cost much, and might not even take up a lot of time, but are done with love and intention.
The paper daisies hanging from the ceiling came from Big Lots and cost just $2 for the set of 3. The fresh flower bouquet came from our local grocery store. It was filled with yellow carnations, and of course daisies! The napkin rings were made of ribbon with a piece of cardstock attached to serve double-duty as placecards.
In our household, Mark is the baker, and he baked and decorated this cake all by himself. Fresh flowers are a beautiful alternative to icing flowers, and no cake-decorating class is necessary.
Tea sandwiches are a great way to make your guests feel special! I wrapped these in waxed paper to keep the bread from going stale, and also to dress them up a bit.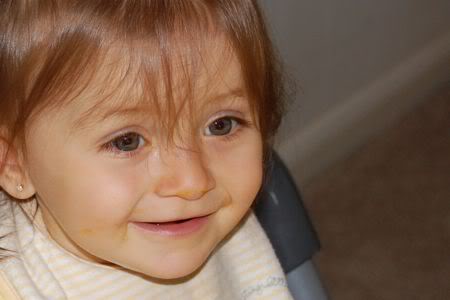 All this attention made for one very happy little girl!
Simple First Birthday Luncheon Menu
Selection of Tea Sandwiches (Ham and Swiss, Turkey and Provolone, Cucumber and Cream Cheese)
Bacon Ranch Pasta Salad
Fruit Cocktail (Fresh Watermelon and Blueberries served in a Martini Glass)
Drinks
Lemonade, Ice Water, Coffee, Tea
Dessert
White Birthday Cake with Lemon Icing
Tips to Cut Costs:
Keep the Guest List Small — By keeping our guest list small, I was able to use dishes instead of paper plates, glasses instead of plastic cups, and silverware instead of plastic utensils. This is both budget-friendly and good for the planet.
Skip the Soda — Lemonade, Iced Tea, and Water are great, inexpensive alternatives to soda.
Late Afternoon Works Best — To avoid having to serve a meal, schedule your party to begin late in the afternoon when guests have already eaten lunch.