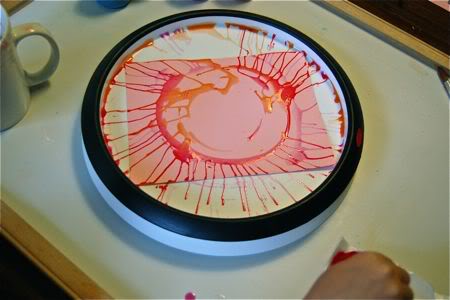 We had a rainy day this afternoon, so while Clara was napping, Emily and I had a pocket of time for a fun messy art project. I remember making lots of spin art as a kid, but I had a battery-powered kit which included paper and paint. The kit was fabulous, but once the batteries ran out, (or the paint, whichever came first), the fun would end. This method uses no batteries and just watered down washable paint. 
To make your own spin art, you will need: a lazy susan with raised sides, washable kids paint, an eye dropper, and some cardstock paper.
Water down the paint so it flows easily with the eyedropper. Emily and I took turns painting and spinning the lazy susan (because I just couldn't resist doing some spin art of my own, of course). Place the paper into the lazy susan so it fits snuggly (you may have to trim some edges to get it to fit well). Once your child has the dropper full and is ready to paint, give that sucker a good hard spin (while your child drops paint onto the paper)! Lay the paper flat to dry.
This was a huge hit!
The paint rinses easily off of the lazy susan, especially if you rinse it while the paint is still wet. 
If you are feeling particularly ambitious, you could use this project as a way to introduce the concept of centrifugal force. I also liked how using the eye dropper was a good way for Emily to practice using the pincher grasp. She loved experimenting with different colors, dropper positions, and speeds of the lazy susan.