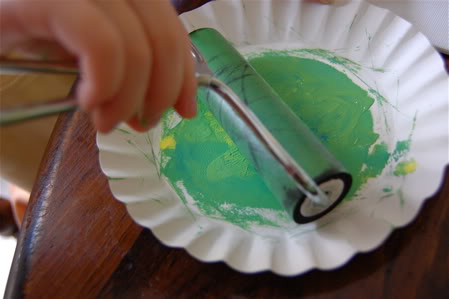 I love incorporating elements from nature in our art projects. Nature provides free art supplies, and I feel it's important for kids to connect with nature on a regular basis. Emily enjoyed gathering leaves from the yard for this one. I have a feeling we will be doing more block-printing type projects in the future, since this was such a hit! We used water-soluble block printing ink and a brayer for this, but if you do not have those at home, you could easily achieve the same effect using crayons with the second technique below.
The first time we tried this, Emily rolled the brayer in the ink and then transferred the ink to the back side of a leaf.
Lay the leaf back side down and use the back of a spoon to really get a good print on the paper. Lift it up and admire your beautiful print!
The second technique we used was more like a leaf rubbing. Emily placed the leaf under the paper, and rolled the brayer over it to get a nice print. You could get the same effect by using the side of a crayon instead. We used all the leaves Emily gathered, and there were several different kinds. Later, we tried to identify the trees using a field guide. She made lots and lots of prints!