I love, love, love Cinco de Mayo! All the bright colors, the festive music, and the FOOD. Mmmmm…. What's not to like, really? Plus, any excuse to curl up next to Mark with a margarita later tonight sounds pretty good to me! Seriously, my hubby makes a mean margarita. It was a deciding factor for our marriage. 
We had a busy day here with a fiesta for the MOMS Club, and before you go rolling your eyes in the back of your head about the MOMS Club, I will say a few years ago I was extremely hesitant to join. The truth is there is something to be said for having a network of friends who support one another. We've been stuck with a series of rainy days, but that didn't keep us from having a great time. There was singing, dancing, lots of running around, playing, and of course — a pinata. One of the moms shared a
fabulous
idea with us, but that is a whole other post, so more on that later. It's moments like those that remind me of why I joined in the first place. 
After the party, we cleaned up a bit, put Clara down for a nap, and Emily asked if we could do a little project. Inspired by some lanterns we had used to decorate for the party, we made a festive planter from a baby food jar and some colored popsicle sticks. Surely, this little tomato plant must be feeling the love….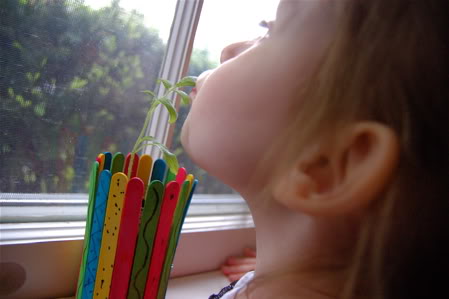 Hmm… can I make chili dog nachos for dinner? Is that legal?