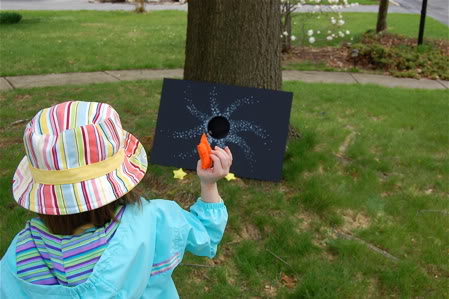 For $5 Friday, we made our own bean bag toss game and spent some time playing it outdoors. I indulged Emily's love for outer space and made it a throw-the-star-into-the black-hole game. 
Here is the breakdown of how we spent our entertainment money today:
Foam Board: $3.59
Felt: 50 cents (25 cents per sheet x 2)
Paint: on hand
Dry Rice: on hand
Tissue Paper: 27 cents (clearance at Target)
Mailer Tube: Free from recycling bin
White Cardboard: Free from recycling bin
Tape: on hand
Glue: on hand
Total Spent = $4.86!!