It is starting to look like St. Patrick's Day at our household, thanks to this cute rainbow suncatcher Emily and I put together! To make your own, you will need tissue paper in rainbow colors, clear contact paper, a hole puncher, black construction paper, gold foil (we used candy wrappers) and some yarn.
Lay a sheet of contact paper sticky side up and help your child stick strips of tissue paper on it. With a hole puncher, make gold coins out of candy foil wrappers and glue to a pot cut from black construction paper. Add another sheet of contact paper on top, trim the edges and use the hole punch to make holes to attach yarn for hanging.
Here is a peek at what we have been working on….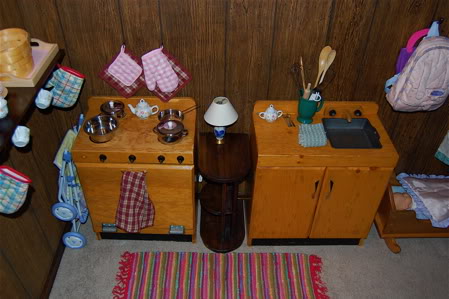 ….Emily's new (sort of) kitchen set! I feel like this is her "grown up" play kitchen set. It is the same one I used to play with at my old church when I was a little girl. I'm guessing it pre-dates me by about 15 years..? It's an antique! I managed to get it at a church sale when they were upgrading all of their playroom toys. And Emily simply adores it, although I don't think she can truly appreciate the history here. The table in between the sink and stove was built by my great-grandfather, and the baby doll cradle was built by Mark's grandfather.
… and that little rocking chair? That was mine too! It is so much fun to see her play with all these things that have been passed down. She's been baking, cooking, stirring, and cleaning all weekend!