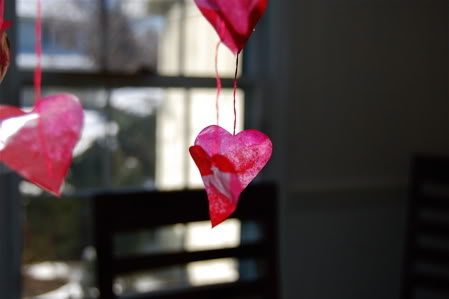 I spent some time with Emily yesterday creating this Valentine Mobile for our dining room. It is so simple and easy to make (and extremely frugal).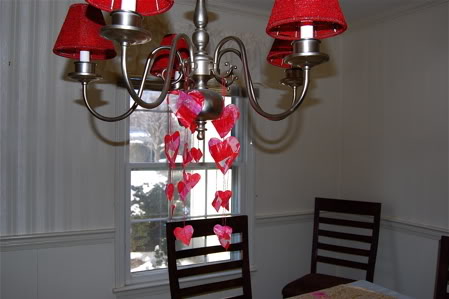 To make your own mobile all you will need is some tissue paper, white glue, a paintbrush, embroidery floss or ribbon, scissors, a marker, and a zipper storage bag. Here is a picture of Emily working on this mobile.
Dilute the white glue to a 50% glue/50% water mixture. It should have a milky consistency to it. Have your child glue pieces of different colored tissue paper to the zipper storage bag using a paintbrush to apply the glue. You could also glue tissue paper to plastic wrap, but I found the zipper bags to work MUCH better. The pieces of tissue paper should overlap. Once the entire bag is covered, apply one more coating of glue and set aside until it is COMPLETELY dry. Once dry, the tissue paper will peel off completely from the bag. Use a cookie cutter to trace shapes onto the tissue paper and cut out. Tape the shapes to some embroidery floss and hang to display!
Tissue paper is one of the staple craft supplies in our household that I always have on-hand for last minute projects. It is very affordable and can be used in so many different kinds of activities. The best time to stock up on tissue paper is after Easter when you can find several different colors for 50-75% off!