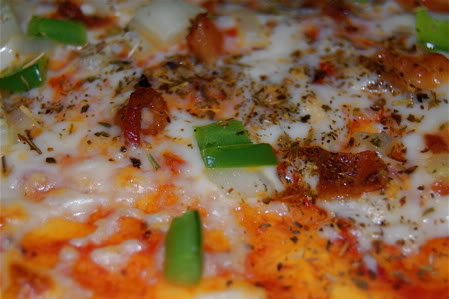 Just in time for Super Bowl Sunday! I thought it would be fun to post this easy (and very frugal) recipe. Our family enjoys making homemade pizza together so much that we hardly ever order delivery anymore. A bread machine takes all of the labor out of kneading the dough, and I have frequently seen bread machines at thrift shops or yard sales for about $10. With a baby in the house, I find the bread machine to be a huge time saver.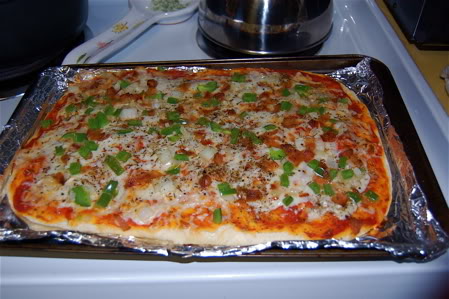 To your bread machine, add the following ingredients
in this order
(Makes 1 large or 2 medium pizzas):
1 1/3 cups Water 80-90 degrees F
1 tsp. Salt   
2 Tbsp. Extra Virgin Olive Oil
4 Cups Bread Flour
2 1/4 tsp. (or 1 packet) Yeast – active dry, instant, or bread machine
Set your bread machine to the dough setting, and start.  It will probably take about 1 hour 45 minutes to knead, rise, knead, etc. Once it is done, roll out the dough on a pizza pan or baking sheet using corn meal under the dough to prevent the dough from sticking to the pan. Roll out to desired thickness, and add toppings (pizza sauce, mozzarella cheese, mushrooms, peppers, onions, etc.) Bake in a 450 degree oven for 6-7 minutes, checking often to make sure the bottom of the crust does not start to burn.
Does your family ever make homemade pizza? I would love to hear from you! Leave a comment and share your stories with us!