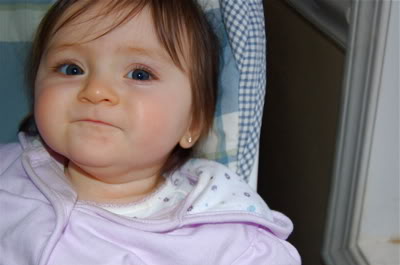 Clara at 7 months old.
In most cases, being frugal is also good for the environment and vice versa.  However, raising baby green can sometimes be challenging for your budget since what is best for the environment may not always be the most frugal choice. Organic baby food, for instance, usually costs considerably more than regular baby food.  If you are planning to raise baby green, here are some tips to keep costs down.
Make Your Own Organic Baby Food

— Check with your pediatrician about making your own organic baby food. Organic carrots and sweet potatoes are some of the cheapest vegetables, and both last a very long time so stock up on these. Add a small amount of water and blend well in a food processor. Freeze in ice cube trays, and defrost as needed.

Apple Sauce

— Instead of buying several jars of organic apple baby food, try one large jar of organic apple sauce (with no sugar added).  

Cloth Diapers

— We have had great success with bumGenius cloth diapers. These adjust to fit your baby and will last from the infant stage all the way until potty-training. Try one or two cloth diapers to see how they work for your baby before purchasing a bunch of them. Over time, the cost savings of using cloth diapers is significant, and you will keep diapers out of the landfill (where they frequently take 100 years to decompose!).

Make Your Own Baby Wipes

— Since we use cloth diapers, it made sense to use cloth wipes too.  We use baby wash clothes as baby wipes, and I keep a spray bottle of watered down solution of baby wash on the diaper changing table.  Spray the wash cloth and you are good to go!

Save on Skin Care

— Before using tons of lotion or baby powder, check with your pediatrician.  Many times infants only need plain water or very little baby wash, so you can use it very sparingly.  

Learn to Knit

— This is my personal favorite. Learning to knit is a great hobby for stress relief, and can help save money. Organic cotton baby sweaters can be very expensive, but you can knit your own for a lot less!

Prioritize Organics

— If you cannot afford to buy all organic baby food, try focusing on the foods that are typically grown with the most pesticides and only buying these foods organic instead.  These include: apples, strawberries, raspberries, potatoes, peaches, pears, and cherries. 

Swap Clothing and Linens with a Friend

— Kids out-grow clothing at such a rapid rate.  Let friends know you are looking to swap children's clothes. Check craigslist or your local freecycle to help keep clothing out of the landfill.

Save on Paint

— Thinking of painting the nursery?  Shop and compare prices for no or low VOC paint.  To save money, be sure to measure the square footage of your project accurately so you do not buy more paint than you will really need. You may want to check the returned paint section — you may find the perfect shade for 1/2 the price!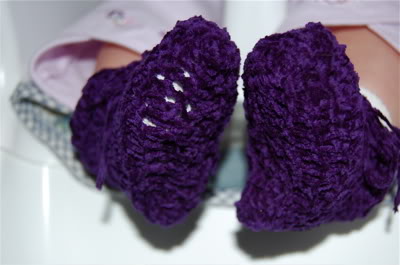 Clara models some baby booties I knitted for her.
Do you have a money-saving tip for raising baby green?  I would love to hear from you! Leave a comment and share your ideas with us!