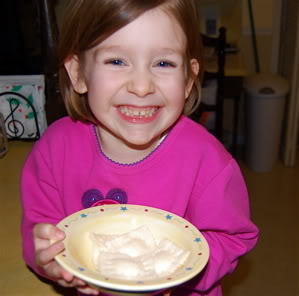 Emily spent a good deal of time this afternoon feeding her dolls these fabulous felt ravioli!  If you have never sewn before, this is a terrific starting project because the felt is very forgiving.  Since it is ravioli, the seams do not need to be perfectly straight.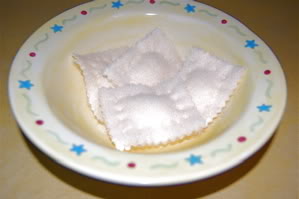 To make your own felt ravioli, you will need: 
1 sheet ivory felt
clear or white thread
sewing needle
fabric scissors
pinking shears
One small sheet of ivory felt should yield about 8 ravioli.  Fold the sheet in half horizontally and cut along the fold.  Repeat 4 more times until you have 16 equal pieces of felt, about 2 inches square each.  Take two squares and sew with clear or light-colored thread leaving about 1/4″ inseam.  Sew three sides and stuff the ravioli with a cotton ball.  Sew up the fourth side.  Repeat until all 8 ravioli are sewn and stuffed with cotton balls.  Finally, use pinking shears to trim up the edges of each ravioli with a zig-zag edge, and you are done!