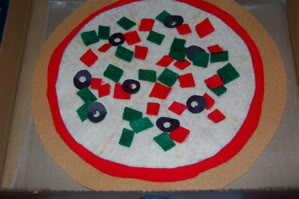 The inspiration for this project came from a box used to deliver Omaha Steaks burgers. Back in October, I got a great deal on beef for 36 cents a pound!  You can read more about how I did that
here
, but the box was about the size of a personal pan pizza box.  We decorated the outside, and looked for felt to make a felt pizza set.
This time of year, you might be able to find red and green felt at deeply discounted prices.  We look for eco-felt that is made from recycled soda bottles.  Here's an easy felt no-sew project that Emily enjoyed.  She loves her felt pizza set!
To make the felt pizza set, you will need:
1 sheet red felt
1 sheet green felt
1 sheet tan felt
1 sheet ivory felt
1 sheet black felt
wax paper
cardboard box (Note: I've learned many pizza places will give you small boxes for free, so ask!)
markers
Cut out one large circle of tan for the crust, a slightly smaller circle of red for the sauce, and an even slightly smaller circle of ivory for the cheese.  If desired, use marker to draw "slices" of pizza on the ivory.  Cut up small squares of red and green for peppers, and some black circles for olives.  Use wax paper to line the box (just like real pizza)!  You can decorate your pizza box, if desired.
Tip — This is a fabulous tool for teaching beginning fractions
.  Ask your child to prepare a pizza with half green peppers and half red peppers, for instance.  Or try 1/4 plain, 1/4 black olives, 1/4 red peppers, 1/4 green peppers, etc.