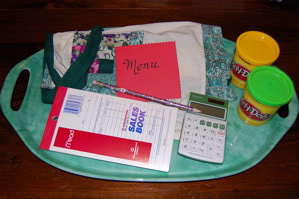 Out of all of the games and toys Emily has, she seems to enjoy playing pretend the most.  I try to encourage this as much as possible because pretend play is one of the most beneficial types of play for a child's development.  Child psychologists claim pretend play helps increase creativity, memory, fine motor skills, and more! Today's project is a series of play sets that can be gathered from items you probably already have at home.  They are very frugal, and best of all, the kids really love this kind of play!  
Here are some ideas to make your own pretend play sets:
Doctor Set —  Fill a small black bag with some bandages, cotton balls, adhesive tape, tongue depressors, gloves, and some empty medicine bottles.  You can paint a white cross on the outside of the bag.
School Set —  Fill a basket with some paper, pencils, reward stickers, chalkboard, chalk, hall pass, report card with cardboard sleeve, and a few books.
Restaurant Set —  Fill a medium sized tray with a paper pad, pencil, kid-sized apron, menu (you can laminate this), play-doh (to make pretend food), and a junior chef's hat.  You could also include paper plates.
Grocery Set —  Save your old trial size cereal boxes, mac & cheese boxes, cleaned out ketchup bottles, and other small food boxes or containers.  Include some paper lunch bags, calculator, paper pad, and pencil.  Put the items in a basket so the kids can use the basket for their shopping.
To make your own play food:
Try FeltCuisine.com for some inspiration.  
Thrifty Craft Mama includes a free pattern for felt pumpkin pie!
Pizza Kit — Try cutting a circle out of tan felt for a crust, a slightly smaller circle from red felt for sauce, and an even slightly smaller circle from ivory felt for cheese.  You can include toppings such as green pepper, pepperoni, mushrooms, and black olives.
Do you have any other ideas for pretend play sets, or do you have children who enjoy playing pretend?  If so, please leave a comment and tell us about it!